Next Day Delivery Just 99p at Chemist Direct
Chemist Direct Affiliate Newsletter
---
Next Day Delivery Just 99p at Chemist Direct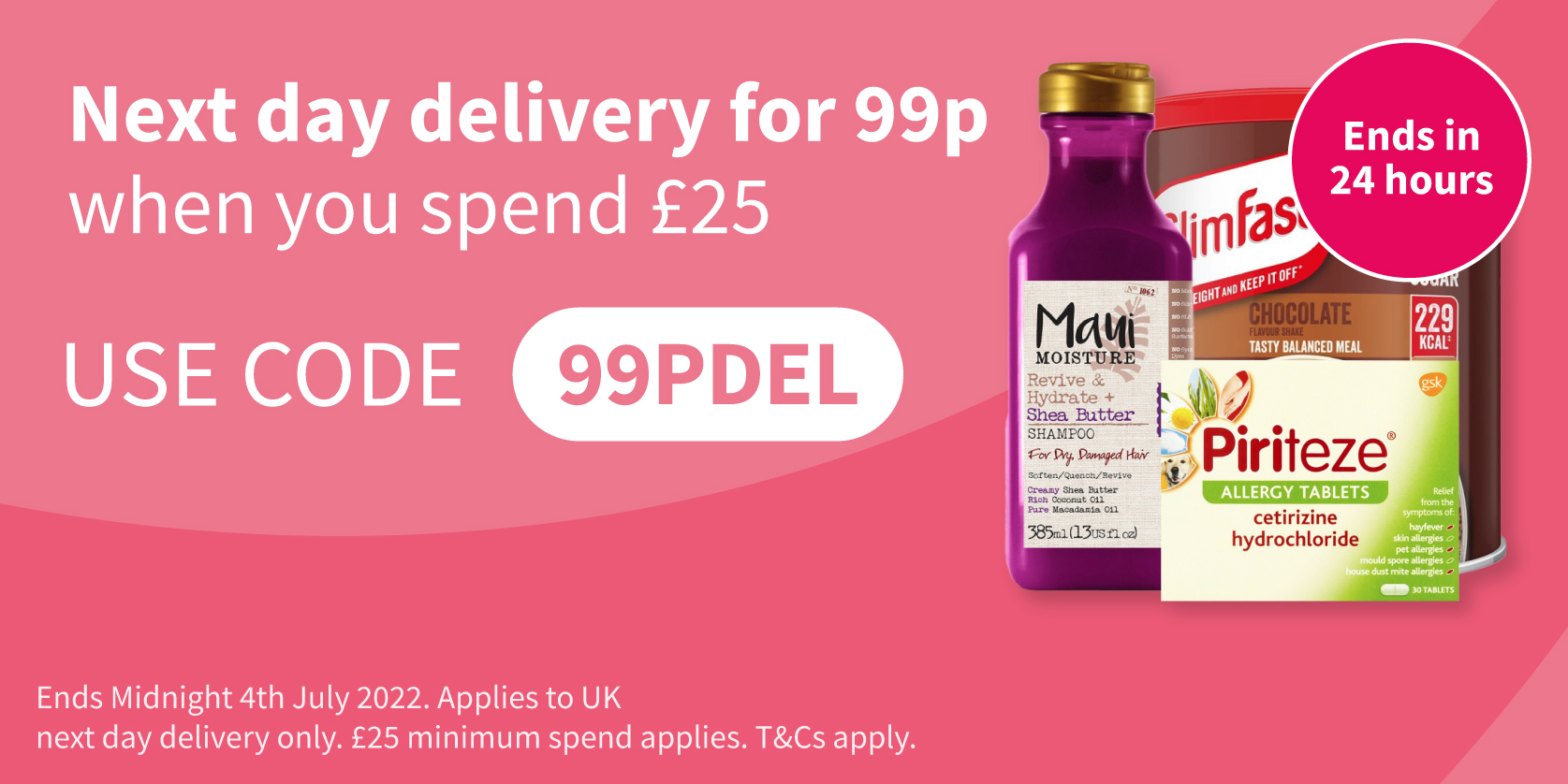 NEXT DAY DELIVERY for just 99p when you spend £25+ at Chemist Direct!
Use code 99PDEL at checkout.
Be quick, this code will EXPIRE at MIDNIGHT TONIGHT!
Terms apply, UK delivery only.
Click here to find out more.
Nytol One-a-Night Tablets are the UK's number 1 over-the-counter sleeping aid thanks to their ability to tackle temporary sleeplessness as they help you drift off into a natural, restful sleep.
Our Price £6.19
Breathe Right Congestion Relief Nasal Strips Clear Small/Medium Six pack - help to relieve nasal congestion caused by colds and allergies, helping you sleep better throughout the night. Breathe Right Nasal Strips Clear, are made especially for those with sensitive or dry skin and are more discreet.
Our Price £28.44
Healthspan Night Time CBD contains natural extracts of chamomile, hops, lavender and lemon balm and is formulated for night-time use. The oil can be applied with the dropper under the tongue for fast absorption.
Our Price £22.95
Earhub Sleep Well soft Earplugs are designed to reduce harmful or irritating noise for a better night's sleep. These non-toxic latex free material Earplugs, re- mould for a perfect comfortable fit that can be used up to three times. The washable reusable earplugs can also protect your ears from water during swimming and water sports. 3 Pairs.
Our Price £4.99
Aquafresh Advance Kids Toothpaste 9-12 Years, delivers fluoride into the enamel of new teeth whilst having a low abrasivity. Flights plaque, yet gentle on teeth.
Our Price £1.99
Perfect for encouraging your kids to brush their teeth, this Firefly Marvel Spider-Man Anti-Cavity Toothpaste helps protect against cavities.
Our Price £1.25
Specially designed for children age 3-5 years, to protect little teeth. Aquafresh Little Teeth Toothpaste 3 - 5 Years has a mild minty flavour and will keep teeth strong and healthy.
Our Price £1.99
Protect milk and new big teeth, creating the foundations for a healthy smile for your child, for life.
Our Price £1.99
This Elizabeth Arden Eight Hour 3 Piece Set contains 3 skin treatment products to help combat dry skin. Included in the set is a moisturiser that nourishes, leaving skin looking healthy. A hand treatment cream to smooth rough, dry hands. Finally, an SPF15 lip protectant stick to combat chapped lips.
Our Price £28.00
PharmaClinix Lightenex Hand & Foot Intense Cream for Hyperpigmentation is an intense moisturising lotion with a built in whitening formula containing potent skin lighteners, vitamins and intense moisturiser with high sun protection to help prevent further pigmentation.
Our Price £9.99