New Website Launch Offers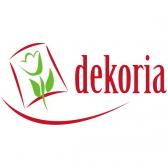 Hello Publishers,
Our better than ever website launched earlier this week and we have some irresistable special offers to celebrate our fantastic new online shop.
We hope you will love the improved design as  much as we - and more imporatantly our customers! - do. In the latest version of www.dekoria.co.uk you will find easier to navigate main menu and better filtering options, new and more visually appealing home page, better converting product pages and new features such as trend and get the look pages with all featured products available to order super easily from all trend landing pages.
Pop in for a visit and let us know what you think! We also have these fab offers to make it worth your time...
11% Commission on Curtains and Blinds
October is the best time to replace light and airy summery curtains and blinds with more substantial, heavier fabrics to keep warmth in and to sync home decor with the new season. With a choice of standard size and made to measure curtains and blinds with all types of headings and around 500 fabrics, we have the perfect finishing touch for all interiors and colour schemes. This Autumn's top trends such as lush velvets or elegant dark blue fabrics are definitely worth checking out.
£30 Voucher Across The Website (Min Spend £300)
Updating home for the AW season is easier than even with a £30 voucher to spend across the website. We have a choice of curtains, blinds, seat pads, bolsters and scatter cushions in around 500 fabric options as well as furniture covers and decorations. This offer is valid with code AUTUMN30 applied at checkout before 31st October. Minimum spend £300.
We wish you a fantastic month with the new and better than ever Dekoria and please let us know on ali@dekoria.co.uk if you have any questions about these offers.
Best regards,

Dekoria Team
Tags: blinds, curtains, cushions, decorations, discount, discount code, discount codes, discounts, gift, home, incentive, offer, offers, promotion, promotions, savings, special offers, textiles, voucher, voucher code, voucher codes