New Voucher Code At Chocolate Trading Company
Treat your dad to a selection of chocolates this Father's Day from Chocolate Trading Company. There is a selection of the most popular chocolate gift ideas, including the single origin chocolate tasting gift boxes for the connoisseur through to the odd fun novelty chocolate for the more familiar of recipients. We are also releasing a fantastic new voucher code.
New Voucher Code
Code: CTC8PER
Promotion: 8% off Everything
Starts: 07/06/2012
Expiry: 06/07/2012
Father's Day Chocolates
To see the entire range of Father's Day chocolates, click here.
Rum Chocolate Truffles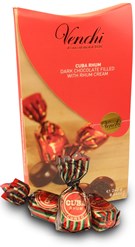 Deliciously rich and boozy rum truffles from Venchi of Italy. A rum filled chocolate ganache centre enrobed in high quality dark chocolate. This new gift box contains thirteen generous sized truffles twist wrapped in festive foils.
Our Price £12.45
The Milk Chocolate Tasting Hamper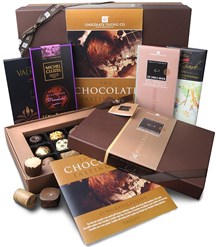 Includes a guide with tasting notes on the special chocolates included. Finished with a sophisticated wrap and ribbon.
This fine chocolate hamper contains; 4 specialist milk chocolate bars from makers such as Amedei, Michel Cluizel, Valrhona & Pralus and a box of Superior Selection, assorted milk chocolates.
Our Price £35.95
Amedei - The Grand Selection Gift Box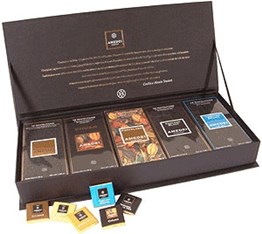 A beautifully presented gift collection of Amedei chocolate neapolitans.
This stunning gift box contains six boxes, each containing 12 neapolitans of Cru, Chuao, Porcelana, No.9, 70% and milk chocolate neapolitans.
Complete with illustrated brochure explaining these very special chocolates and their unique origins. Image varies.
Our Price £75.50
Chocolate Cigar


This single chocolate cigar is coated in a rich 56% dark chocolate and filled with a truffle centre. Created with cocoa from New Guinea. Shaped and labelled to look like the best hand rolled cigar.
Our Price £5.45
Superior Selection, Bouchon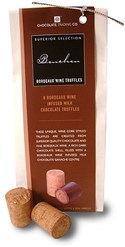 Made with a Bordeaux wine infused, milk chocolate ganche centre and fine dark chocolate shell. Uniquely wrapped to resemble wine corks. These indulgent chocolates are made from the highest quality ingredients and this is certainly apparent in the resulting flavour...amazing!
Our Price £5.99
Superior Selection, Dark Chocolate Gift Box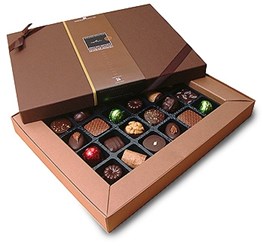 A superior selection of Mostly Dark chocolates chosen for their purity of ingredients and outstanding flavours. A diverse and unique collection of 12 different types.
This dark chocolate gift box contains; Dark chocolate salted caramel, 22 carat gold decorated dark chocolate ganache, Coffee ganache, Morello cherry in Kirsch, Passion fruit, Creme brulee, Dusted French truffle, Grape and Marc brandy...and more.
Our Price For 12 Box £13.99
Our Price For 24 Box £22.99
Our Price For 36 Box £32.99
Michel Cluizel - Le Nuancier, Cacao, Chocolate Tasting Box


A Michel Cluizel chocolate tasting experience in a sophisticated presentation box.
A beautifully presented collection of 70 milk and dark chocolate tasting discs with varying cocoa contents from 33% milk all the way up to 99% dark chocolate. An interesting opportunity to discover your own prefered level of cocoa content from the finest French chocolate maker.
Our Price £27.95
Michel Cluizel - Les Champignons, Caramel & Chocolate Mushrooms


These unique delights by Michel Cluizel are both delicious and enchanting!
The mushroom's dark chocolate cap is filled with a crunchy almond nougatine and the stem is made of butter caramel surrounded in a white and dark chocolate shell. Each generous mushroom is the equivalent of two chocolates. We find everybody loves these.
Our Price For 8 Box £8.95
Single Estate, Dark Chocolate Gift Box


A beautifully presented gift box of 25, dark chocolate ganaches from 5 of the worlds finest plantations, favoured by Michel Cluizel.
A sumptuously rich and flavorsome journey of single origin, dark chocolate at its finest. Each chocolate is created with a smooth ganache centre encased in a crisp outer shell. Decoration includes edible 22 carat gold and silver.
Our Price £21.95
Valrhona Collection Grands Crus


The Collection Grands Crus gift box contains a total of 66 tasting squares of each of the dark chocolate, grand crus (single origin chocolates) from Valrhona; Manjari, Tainori, Caraibe, Guanaja, Alpaco and Abinao.
Our Price £32.95