New Program - Rare London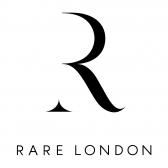 RARE LONDON - LAUNCHES ON AFFILIATE WINDOW..
Silverbean are pleased to announce the launch of the Rare London affiliate program on Affiliate Window.
Read on for more information...
EARN 10% COMMISSION PLUS 10% VOUCHER CODE...
Rare London are offering a fantastic 10% commission rate PLUS a 10% voucher code on all full price items to promote - so there's never been a better time to sign up.
You can do so, here.
What else do you need to know?
AFFILIATE PROGRAM INFORMATION...
Rare has everything a girl needs to perfect that celebrity look on a Saturday night.
Inspired by catwalk and celebrity icons alike, Rare offer stunning yet wearable styles for high street customers who demand to be different.
With gorgeous dresses and tops for the ultimate party girl, plus pretty knitwear and jackets for day, look like a star without the hefty price tag!
Rare's premium collection, Opulence, offers highly trend and concept driven pieces - ideal for that special occassion when a red carpet look is a must!
And if Rare is good enough for reality star Millie Mackintosh... then it's good enough for us!
The Made In Chelsea star turned UK fashion princess girl band of the moment created a capsule collection for Rare to glam up a night on the town.
The Rare London affiliate program is being managed by Amy Murray  from our affiliate marketing agency Silverbean.
You can contact her at: rare@silverbean.com
Silverbean will supply all affiliates with regular product and promotional lead newsletter content, including updates and notifications on all the latest offers, sales and new additions to the Rare London collections.
Silverbean will also supply all Rare London affiliates with a regularly updated product feed and marketing leading banner creative (which we will also keep up to date for you!)
Unique content is available on request. Please contact Amy for further information.
SALE ENDING - EXTRA 10% OFF...
All good things must come to an end - and the Rare London sale is entering the final days. However, you can get an EXTRA 10% OFF when you spend over £50 with the code SAVE10. (Selected sale lines only. Offer cannot be used in conjuction with any other promotion/code).
DIRECT URL:
http://www.rarelondon.com//sale.html
QUERIES/CONTACT US...
If you have any queries, or would like to request anything please contact Amy Murray at Silverbean, and she will be happy to help:
email: rare@silverbean.com
website: www.sbnaffiliates.co.uk
Sign up for our blog RSS feed
follow us on twitter
like us on facebook
join us on Linkedin
In Association with Rare London's Exclusive Affiliate Partners Agency.
Tags: Clothing, discount code, fashion, sale, voucher code, women