New Opportunity for affiliates to earn more commission at Gemporia.com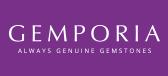 As many of our fabulous publishers know, Gemporia offers quality jewellery featuring genuine gemstones at incredible prices.
But did you know that we have LIVE television channels broadcasting our jewellery deals 24/7 through our Live Auctions?
As of 1st May 2019 we will be rewarding publishers for brand new customers who shop from our auctions.
We will be restructuring our commission groups as follows:
NEW NON AUCTION - 8%
EXISTING NON AUCTION - 2%
NEW AUCTION - 5%
EXISTING AUCTION - 0%
If you have any queries or have any ideas for content pieces around our jewellery, gemstones, or TV channels, please do get in touch with me roz.crombie@gemporia.com.
You can read more about us here