New invitation printing banners from printed.com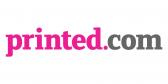 Prices from £10!
Whether you're shopping for wedding invitations, anniversary invitations, birthday invitations or party invitations, we can help you create something you'll want to keep as a memento long after the big day has passed. Invites are essential in creating excitement about an event and to help set the theme, so it's important to get it right, and that's where we come in!
We have new banners for you to use to promote our invitations.
In a range of different sizes in both static banners and flash banners.
Earn commission of £5 per new customer & £1.50 per returning customer.
Tags: invitation printing, invitations, invite printing, Print, printed, printing, stationery, wedding invitations, wedding invite