New Domain Name Releases from Easily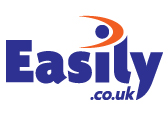 Hi,
Easily.co.uk have released five new domain names this week to join their ever-growing list of innovative domain name extensions.
These new domain name extensions allow users to give their website a personal touch, both in essence and in appearance.
.LUXURY / .DANCE / .DEMOCRAT / .EXPOSED and .FOUNDATION are the five latest additions to have been released, but this is only the tip of the iceberg on what is a whole collection of fantastic new domain names at Easily. To view the entire collection make sure to click here.
Easily.co.uk also offer great deals on web-hosting and email packages, for more info please visit the website at www.easily.co.uk/
Commission is 8.5% for standard domain names, but you can earn up to 20% for the business and personal website creator full packages.
If you have any questions or promotional opportunities then please get in touch!
Thanks,
Chris & The Easily Team
affiliate.manager@easily.co.uk
Tags: domain name extensions, domain names, email hosting, gltds, web hosting, website