New Camper Fall / Winter Collection Live | Time to Play!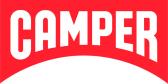 Dear Publishers,
The New Fall / Winter 2018 collection of Camper shoes is officially launched!
Immerse yourself in the quasi-virtual world of the Camper F/W 2018 campaign. New protagonists ranging from supernatural to post-apocalyptic come to life this season, stretching the imagination and blurring the line between the abstract and absolute.
To get you started, enjoy the new collection of Pix for men and women, an extrasensory experiment born from the laboratory and shaped for the street. Flex-cut torsion technology and sport-grade innovation with a minimalist aesthetic is one of the first original styles you can shop online from our Autumn collection (free shipping included).
You will find all the necessary creatives in the platform. Have a look at the Fall / Winter collection of Shoes Camper and start enjoying the new season right now.
Happy promoting!
Any doubts you can contact us on: affiliates.camper@arenamedia.com
Tags: autumn 2018, autumn winter, camper, footwear, new collection, winter 2018