---
The New Autumn | Winter Collection At LSA International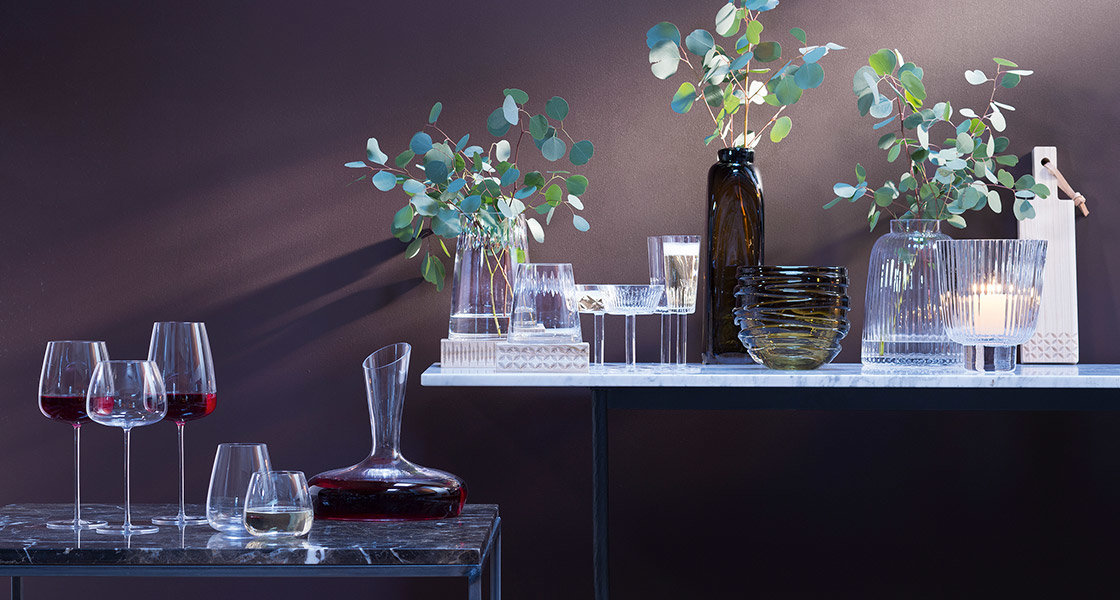 Refined shapes, metallic details, graphic motifs, fabric-inspired finishes - our new Autumn/Winter 2017 collections epitomise contemporary design and traditional craftsmanship.
Delivery is FREE on all orders over £15, and remember to take £10 off orders over £100 using code LSA10100. 
Inspired by the folk traditions of woodworking, this assorted set of four champagne/cocktail glasses is hand-cut with contrasting patterns at the base.
Our Price £75.00
This elegant and stylish tea for one set is ideal for adding a touch or luxury to tea time. Decorated with Polka's signature assorted iridescent lustres, the set is finished with platinum rims and handles.
Our Price £50.00
Echoing taffeta's subtle iridescence, this fabric-inspired vase is decorated with a sheer lustre. Mouthblown, shaped and hand-finished by skilled artisans, the organic form complements flowers, foliage and branches.
Our Price £85.00
Inspired by the folk traditions of woodworking, assorted patterns are carved into this handmade glass dome and corresponding square wooden base, made with ash from FSC® certified sources.
Our Price £100.00
Handpainted between two iridescent lustres, the linear golden detail of each coffee cup takes inspiration from the form of a polished bangle. These modern metallic finishes provide a sophisticated touch for any table setting.
Our Price £30.00
Inspired by rockets, planets and clusters of stars, the slanted neck of this stylish vase is encircled with a band of reflective metallic paint. Mouthblown by skilled artisans, the angular design of the vase draws stems together and the handpainted metallic ring complementings single blooms or a few branches of foliage.
Our Price £22.00
A pattern of cuts are carved into this solid ash cakestand, inspired by the folk traditions of woodworking. With its clean lines, contemporary design and graphic motif, the cakestand is ideal for displaying sweet or savoury bakes.
Our Price £85.00
Picturesque alpine landscapes encircle this set of balloon glasses, illustrating the winter scenes of a mountain valley. A versatile glass for wine, cocktails and aperitifs with décor ideal for seasonal entertaining.
Our Price £36.00
Featuring Deco's eclectic mix of decors, each mug is embellished with golden detail for a modern twist on the linear motifs and metallic finishes of Art Deco.
Our Price £40.00
Inspired by the form of a polished bangle, each balloon glass is handpainted with a linear golden band between two subtle lustres. A modern combination of metallic finishes for sophisticated entertaining.
Our Price £40.00