NEW ADVERTISER ALERT!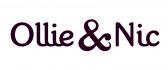 Ollie & Nic is now live on the affiliate Window platform and would like to invite you to join their affiliate program click here to sign up
Established in England in 2002 as a vintage inspired handbags and accessories brand Ollie & Nic is now much loved and sought after by a growing number of loyal consumers. With Franchises in House of Fraser and a few other department stores, Ollie & Nic's products are flying off the shelves!
Appealing to a broad range of predominantly female customers who have a shared love for all things colourful and eclectic the Ollie & Nic customer is looking for accessories that have style and attention to detail combined with practicality. Colourful linings and well-designed interior details are key aspects of the brand's handwriting summed up by the brand's ethos 'It's what's inside that counts'
The collection of bags and purses is constantly updated throughout each season with an on brand offer ranging from quirky printed shoppers through to beautifully coloured leather handbags. Constantly changing seasonal accessories such as sunglasses in the summer and knitted hats, gloves and scarves in the winter compliment the colours and themes of the collections.
The Benefits of promoting Ollie & Nic products:
• FREE DELIVERY
• No minimum order value
• 30-day cookie period
• AOV of £50
• Automatic Approval: 60 days
• 10% Commission for a limited time!
To celebrate the start of our program, we're offering 10% commission for the first two weeks and an amazing discount code for 15% off! Please promote this code AW15 valid until 24th December 2012
Terms
Please note we do not accept sites with illegal, political, pornographic and / or violent content. Bidding is not permitted on the brand name Ollie & Nic and or combination of the brands name including misspellings.
Many Thanks,
Ollie & Nic Affiliate Team
Tags: bags, handbags, increased commissions, program launch, voucher code