Neatcigs Promotion 25% OFF Discount Code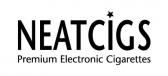 Neatcigs are offering a 3 day promotion code for our white starter kit. The code 'NEATSMART' offers 25% off to customers. In addition you will receive 25% commission!
During all of March we will be running 25% discount on Starter kits with generic banners to help promote this for you. This offer today is the perfect opportunity to get customers interested in using electronic cigarettes.
Sign up now and start promoting!
The 5 best advertisers at the end of March will receive exclusive discount codes to promote Neatcigs and the first 5 people to £2500 in sales will receive a cash bonus of £100 .