M&S Ireland: 20% Off Knitwear!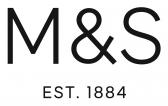 Hi Affiliates,
Great News! M&S Ireland are offering 20% off knitwear! This includes knitwear jumpers, cardigans & dresses including cashmere!
There is creative in the account available in different sizes to aid your promotions.
If you have any queries, please do not hesitate to contact us.
Kind regards,
The Marks and Spencer Affiliate Team
marksandspencer@affiliatewindow.com