M&S Ireland: 15% Off Code!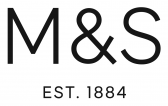 Hi Affiliates,
Great news! Marks and Spencer Ireland are offering a 15% off code on online purchases! Please see below for the promotion details.
Start date: 15th March 2013
Date: 22nd March 2013
Code: HAPPYSTPAT
Terms and Conditions:
Get a discount of 15% when you shop at marksandspencer.ie. Offer commences 15/03/2013 and ends 22/03/2013 online at marksandspencer.ie. Discount will be shown at checkout. Please check relevant delivery terms & conditions online. [Eligible products must have the same delivery date and address for promotion to apply across all items.] Offer does not apply to delivery charges. Subject to availability. Any refunds will take into account the discount. Offer is valid in the Republic of Ireland only. Cannot be combined with any other promotional code.
If you have any queries, please do not hesitate to contact us.
Kind regards,
The M&S Ireland Affiliate Team
marksandspencer@affiliatewindow.com