Mother's Day Chocolates From Chocolate Trading Company
Give your mum a special treat this mother's day from Chocolate Trading Company, who this week bring you an enchanting range of chocolate gifts ideas for Mother's Day.

Contents:-
Mother's Day Chocolates
Voucher Code
IAB E-Privacy Guidance Details
Mother's Day Chocolates
Superior Selection, Ultimate Chocolate Hamper


A sophisticated and contemporary chocolate hamper filled with a generous selection of our famous "Superior Selection" range of chocolates.
Containing both milk and dark chocolates of the highest and purest quality.
Our Price £59.95
Milk Chocolate Hearts With Champagne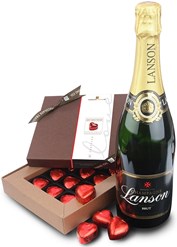 A gift box of 12 luxuriously smooth, milk chocolate ganache filled, red foiled hearts (160g) with a bottle of Lanson black label Champagne (75cl).
Our Price £42.94
Charbonnel et Walker - Handbag & Heels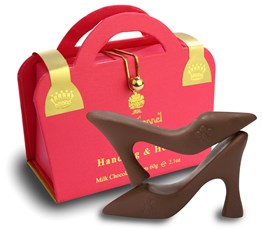 A fun chocolate gift for all those shopaholic, chocoholics.
A miniature pair of solid, milk chocolate stilettos presented within a vibrant pink handbag shaped box bearing the Charbonnel et Walker name embossed in gold.
Our Price £6.95
Charbonnel et Walker - Rose & Violet Creams Gift Box


A very British, traditional chocolate from Charbonnel et Walker. Rose and violet infused soft, cream centres enrobed in fine dark chocolate.
Our Price £9.95
Charbonnel et Walker White Heart Champagne Truffles Gift Box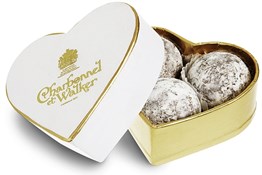 A heart shaped, white gift box containing three, milk chocolate and Champagne truffles.
A creamy milk chocolate shell with a rich, milk chocolate and Marc de Champagne truffle centre. Perfect for a romantic chocolate gift or token gift to show your love & appreciation.
Our Price £3.95
Valrhona - Equinoxe Lait, Milk Chocolate Enrobed Nuts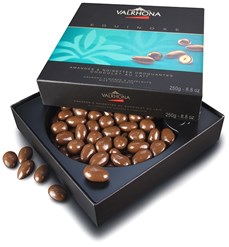 High quality Marconas almonds and Italian hazelnuts covered in fine milk chocolate with notes of caramel and vanilla and just a hint of malt.
The Valrhona Equinoxe Lait is smartly packaged for gift giving or personal delight.
Our Price £15.95
Champagne & Chocolate Hamper


This stylish gift hamper contains a bottle of Perrier Jouet, NV Grand Brut Champagne 75cl, a 24 assorted box of Superior Selection chocolates, Michel Cluizel Premier Cru dark chocolate neapolitans and Superior Selection drinking chocolate flakes (new packaging from that shown)
Our Price £77.95
Superior Selection, Cherries In Kirsch Box


Not just any cherry & chocolate...Whole Morello cherries, soaked for one year in oak barrels and so creating a soft, flavour filled experience. Encased in a fine dark chocolate shell which in turn is topped up with high quality Kirsch. If you are one of the many who favour this popular combination then you will certainly appreciate what we consider to be the ultimate cherry brandy! 12 per box.
Our Price £12.99
Voucher Code
Code - Mothers8
Promotion - 8% off excluding p&p
Expires - 19-03-2012
IAB E-Privacy Guidance Details
IAB Affiliate Marketing Council publishes Consumer Transparency Framework E-privacy guidance released for publishers and affiliates for more information please visit http://www.optimus-pm.com/iab-e-privacy-guidance-released-for-publishers-and-affiliates/.