Moss Bros Launch Irish Affiliate Programme!

We at Moss Bros are excited to invite you to our Moss Bros Irish affiliate programme!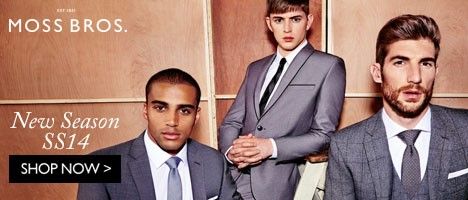 My name is Shireen and here is a bit about Moss Bros..(if you have any questions please do not hesitate to get in touch with me directly)
We have a passion for menswear style, we have unrivalled expertise and a proud heritage which spans over 160 years. Moss Bros is the UK's most iconic brand for men's clothing and we have over 150 stores in the UK and Ireland.
FIRST MONTH Launch Incentive
For the first month you will receive a huge 16% for new orders and 6% for existing orders

STANDARD RATES
After the first month our rates revert to standard commission which is 8% for new orders and 3% for existing orders

Exclusive
We offer our exclusive brands Dehavilland, Moss 1851, Moss Covent Garden, Savoy Taylors Guild, Stg Exclusive, Ventuno 21, Moss Bros, Moss and Blazer. If you would like to know more about our brands please do not hesitate to get in touch. We also have a full range of premium brands such as Calvin Klein, Ted Baker, Daniel Hechter and French Connection.
Our Products
We offer an extensive range of menswear including suits, shirts, ties, coats, blazers, shoes & cufflinks. We also offer Bespoke suiting and Hire.
Delivery
FREE Standard Delivery on all Ireland Orders
Commission Rates
An exclusive 16% commission on all orders for the first month!
AOV
Average order value of £120
Cookie Length
Cookie length of 30 days
Sign Up Now!!
https://ui.awin.com/m...t-profile/5832
For further information, please do not hesitate to contact me!
Email: shireenc@moss.co.uk
Tel: 020 7447 7265