Monarch Flights - We've saved you a seat in our Biggest Sale Ever - up to £25 off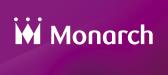 Hi Affiliates,
Happy Friday!
We've saved you a seat in our biggest sale ever and now, with up to £25 off return scheduled flights, great service doesn't have to cost you the earth.
To see how much you'll save on your dream getaway, simply enter the discount code MYSAVING in the box provided in the running total on the payment page and watch the price fall. You'll find the biggest discounts on our lowest fares!
You'll find most of our biggest discounts on flights from October 2013 to March 2014 so, with Christmas just around the corner, why not treat yourself to a getaway to great cities such as Munich and Barcelona. Indulge yourself in a spot of Christmas shopping, soak up the classic Christmas Markets or hit the slopes for some skiing.
We've got savings on all our destinations though so there are plenty of opportunities for you to claim your saving on the sun-drenched destinations too - Alicante, Faro, Malaga, Tenerife to name but a few!
With all travel dates from 1st October 2012 to 31st October 2014 covered by our great discount, claim your saving today and book your flights before all the best deals go!
Terms and conditions apply.
Only valid on scheduled (ZB flight numbers) flight only bookings when travelling between 1st October 2013 and 31st October 2014. Offer is not valid on charter (MON) flights or package holidays. Discount Code is valid on new bookings only and cannot be applied to existing bookings. Only one discount code can be redeemed per booking. Discount appears as an extra discount in running total and total saved amount. To redeem discount code enter it in the box in the running total on the payment of the booking process. Discount does not apply to infant passengers.
Prices are one way per person, including taxes and charges. Subject to availability. Credit card fees apply.
Please don't hesitate to contact us if you require any further information.
Kind regards,
Monarch Affiliate Team