Mighty Deals Gadgets and Gifts Email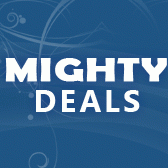 | | | |
| --- | --- | --- |
| | Online version | add [#EmailCampaignFromMightyDeal#] to your address book |
| | |
| --- | --- |
| | 32GB or 64GB USB 2.0 Flash Drive |

In need of some additional memory to help you retain important information such as anniversaries and birthdays? We can't help you with that but we can offer some essential extra capacity for your tablets and computers in compact portable form wi...more

| | |
| --- | --- |
| | Choice of GoPro Hero4 Cameras |

Worth:
£329

.99

Save:
15%
£279

.99

Do you want to capture every moment? Whether you love a gentle Sunday morning cycle ride or you're a fan of extreme sports, don't miss a moment with this deal for your choice of GoPro Hero4 Silver or Black...more
Monster UrBeats by Doctor Dre
Available in black or white, these Monster HTC UrBeats earphones give you superior sound quality with every listen. With solid metallic housing and a tangle-free cable, they look stylish and are sturdy enough for daily use...more

Worth:
£79

.95

Save:
62%
£29

.99
iMedia Blaze 9 inch Tablet
Running on the superb Android 4.2.1, this 9" tablet features front and rear cameras, full HD video output, Wi-Fi connectivity, 512MB RAM and 4GB storage, expandable to 32GB! You can even attach a 3G dongle to get online when you're away from a W...more

Worth:
£199

.99

Save:
74%
£51

.99
Portable Charger for the iPhone 5 5C 5S 6
What's worse or more panic-inducing than your iPhone running out of battery when you need it most? Stay connected at all times with this portable back-up iPhone charger, which is now yours...more

Worth:
£21

.99

Save:
59%
£9

.00
Dell Latitude D630 Laptop
Why pay big bucks for a brand new laptop when there are some excellent refurbished models available for a much lower cost? This Dell Latitude D630 Laptop has been refurbished to an excellent standard, features an amazing software package and eve...more

Worth:
£220

.00

Save:
51%
£107

.99
LG G2 Refurbished Smartphone
Get smart and introduce yourself to the amazing functionality of your very own smartphone with this sleek LG G2! This compact device features 3G connectivity, 8GB of storage and it's unlocked, ready for a SIM card from any UK network...more

Worth:
£106

.24

Save:
25%
£79

.99
Kensington Keyfolio iPad Mini Case and Wireless Bluetooth Keyboard
Proud owner of an iPad Mini 1, 2 or 3? A knock, drop or fall could cause it some serious damage so protect it with this ultra thin case that also connects wirelessly via Bluetooth for easy typing on the compact keyboard...more

Worth:
£79

.99

Save:
80%
£15

.99
Personalised Hardcover Photobook
Everybody loves a photobook, even if it does contain 'a picture of you in your birthday suit, sat in the sun on a hot afternoon…' as the catchy ol' Kinks song describes. From embarrassing baby photos and sunny holiday snaps to special occasions ...more

Worth:
£29

.99

Save:
57%
£13

.00
HD Car DVR Dashboard Camera with Night Vision
Keeping a visual record of your journeys and drives is important to the savvy driver these days, so set out with peace of mind using this 2.5" HD dashboard camera! It supports high speed recording and comes with an SD card slot to support cards ...more

Worth:
£49

.58

Save:
78%
£10

.99
5000mAh Dual USB Waterproof Solar Powered Phone Charger Battery
Running out of phone battery when you're stuck in a traffic jam or expecting an important call is the worst. Avoid that gut-wrenching situation with this back-up device portable charger!...more

Worth:
£27

.45

Save:
64%
£9

.99
4.3" In-Car Sat Nav GPS
With a touchscreen 4.3" TFT high resolution display and easy-to-read digital maps, this GPS is a great way to get to your destination (without the stress of memorising every left turn and A-road name before you leave)...more

Worth:
£69

.99

Save:
54%
£31

.99
NanoBoom Pocket Size 3 in 1 Wireless Speaker
Listen to music on the go with ease. At just 3cm, the NanoBoom speaker will fit easily into your pocket or bag, or you can simply attach it to your keys. Pair it with your Bluetooth enabled smartphone or tablet...more

Worth:
£19

.99

Save:
55%
£9

.00
Nikon D3200 Digital SLR Camera in Black + 18-55mm VR Lens
Equipped with a 18-55mm VR lens to get you started, this Nikon digital SLR blows other cameras out the water with its incredibly detailed 24MP sensor. With this you can crop photos and zoom in without compromising on image quality...more

Worth:
£299

.00

Save:
16%
£249

.99
13.3 inch Apple MacBook
With a 13.3" screen and running on OSX 10.7 Lion, the white Apple MacBook A1811 is perfect for work and play, whether you plan to use it to write up documents and presentations or just stay in touch...more

Worth:
£415

.00

Save:
52%
£199

.00
4 In 1 Charging Kit For Multiple Devices
This device is essentially one cable with four connector heads – a Micro USB head for the likes of Sony, HTC and Blackberry devices, a 30Pin head or older iPods, selected iPad models, and iPhone 4s, and an 8 pin connector head for lightening cha...more

Worth:
£29

.99

Save:
87%
£3

.99
iPhone Light Up Case and Charge Cable
If you want to put on a lights display to celebrate the fact that your crush has just texted you (or just show off that you're dead popular), this light up case for the iPhone is ideal!...more

Worth:
£19

.99

Save:
75%
£4

.99
3-in-1 Smartphone Camera Lens Kit
Included in this kit in a wide-angle lens, a fisheye lens and a macro lens, each of which easily fits over your smartphone's camera to transform your photography. Get awesome landscape and nature shots with the wide-angle lens...more

Worth:
£24

.99

Save:
76%
£5

.99
Children's 50cc Mini-Moto Off-Road Quad Bike
At home off-road, your kid will go wild for this amazing quad bike. Introduce your child to the thrill of off road with this child-friendly quad. Measuring just 1000mm length, 590mm width, 630mm height this bike is small enough to fit in the car...more

Worth:
£349

.99

Save:
51%
£169

.99
iPad 2 with Wi-Fi - 16GB, 32GB or 64GB
This sleek refurbished iPad 2 comes with a 9.7" widescreen LED multi-touch display, perfect for watching your favourite media, gaming, or reading a book on your way to work. You can even capture great pictures...more

Worth:
£383

.00

Save:
66%
£132

.00
You have received this e-mail as you have registered through the MightyDeals website or one of our associates.
If you would prefer not to receive these emails, you can unsubscribe immediately in a single click.

Mighty Deals is a trading name of Mightydeals Ltd.Registered in England & Wales. Registered Number 05717482.
Registered address: Huxley House, Weyside Park, Godalming GU7 1XE.