MEGA 15% Commission On Sales All October From Bespoke Offers Beat My Price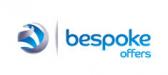 Hello!
Get yourself 15% on all sales made through the Beat My Price tool on Bespoke Offers - Beat My Price cans ave your readers 12% on ANY product they find online!
You'll also get £3.50 just for your reader using the Beat My Price tool to get a quote!
So That's £3.50 for them using the tool then 15% on any sales made! It's a great opportunity for you to make big commissions.
How does Beat My Price Work -
1) Customer finds a product online and enters the URL into the Beat My Price tool. (You just made £3.50 commission)
2) The Beat My Price Team offer them a discount up to 12% on the product (even if it's already discounted).
3) The customer purchases the product via Beat My Price (You just made 15% commission)
Join Bespoke Offers today for this MEGA commission offering!