Maxwell Scott Bags has arrived!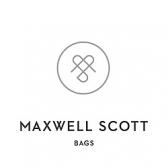 Hi all.
Hope you're all well?
Maxwell Scott Bags are now live on the network.
http://www.maxwellscottbags.com/
We are looking for relevant sites to promote their bags. This is all done on a CPA basis for now.
Unfortunately we won't be using voucher code of cashback sites. We want to promote them through high end fashion blog's using banners or content.
If you are interested in joining the program please apply here:
https://ui.awin.com/awin/merchant/6824/profile
You can contact me at craig.griffiths@roeye.com to discuss the program.
Cheers all.
Craig
Tags: accessories, bags, content, fashion, gifts for her, gifts for him, luggage, men, menswear, presents, presents for men, travel, women, womens fashion, womenswear