Exclusive commission offer to celebrate the launch of the Maisons du Monde Affiliate Program!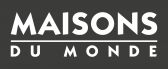 We are very excited to announce the launch of our Affiliate Program here at Maisons du Monde, with an exclusive launch offer of up to 12% commission on sales for a limited time only!
Who are we:
As a much loved and well established homeware and furnishings brand in Europe, we are looking to bring our fresh approach to proud homeowners in the UK too.
Maisons du Monde represents style with a smile. We believe a person's home is an insight into their personality, and our expansive furniture and home decor offering reflects this. With our huge variety of eclectic styles and exciting products, all at friendly prices, it's easy to liberate your personal style!
We are one of the only brands to design and develop our products in house, enabling us to add our eclectic flair to all of our pieces, from stylish sofas and snazzy storage, to cute candles and comfy cushions!
Each year we offer an an indoor collection that covers a wide range of fresh and exciting styles, alongside seasonal trend updates and exclusive outdoor and junior offerings.
For more inspiration, take a look at our website or have a browse on any of our social channels:
Facebook | Instagram | Twitter | Pinterest
Our Affiliate Program:
To celebrate the launch of our program, we are launching with an enhanced commission rate for our first month on Affiliate Window!
Cashback/discount sites: 8%  commission on all sales
All other sites: 12% commission on all sales
*Please note: the launch commission rate offer is available on all sales during October 2016.
Following this date, we will still be offering exciting standard commission rates of:
Cashback/discount sites: 4% commission on all sales
All other sites: 8% commission on all sales
We are keen to work with all kinds of Affiliate Publishers, and you can find out more about joining our program by visiting our Affiliate Window Profile, or feel free to contact myself:
James Rawlins
jrawlins@maisonsdumonde.com