---
Luxury Hampers at Hampergifts.co.uk
When you're looking for something a little extra on a special occasion our luxury hampers make an ideal gift. These special hampers are brimming with award-winning products and quality gourmet treats.
Our range of Luxury Hampers and Gift Baskets include the Veuve Clicquot Hamper, our Deluxe Wine & Food Tower and the ever-popular Grande. For the ultimate in luxury, we reserve The Royal - a huge collection of fine food & drink and The Opulence - our largest hamper, containing 39 delicious gourmet items and packaged in a rope handled trunk. 
You can also get 5% off all orders using code SEPH5.
Featuring 20 items in total (including 9 award winning treats) this immense gift tower contains something for everyone.
Our Price £130.00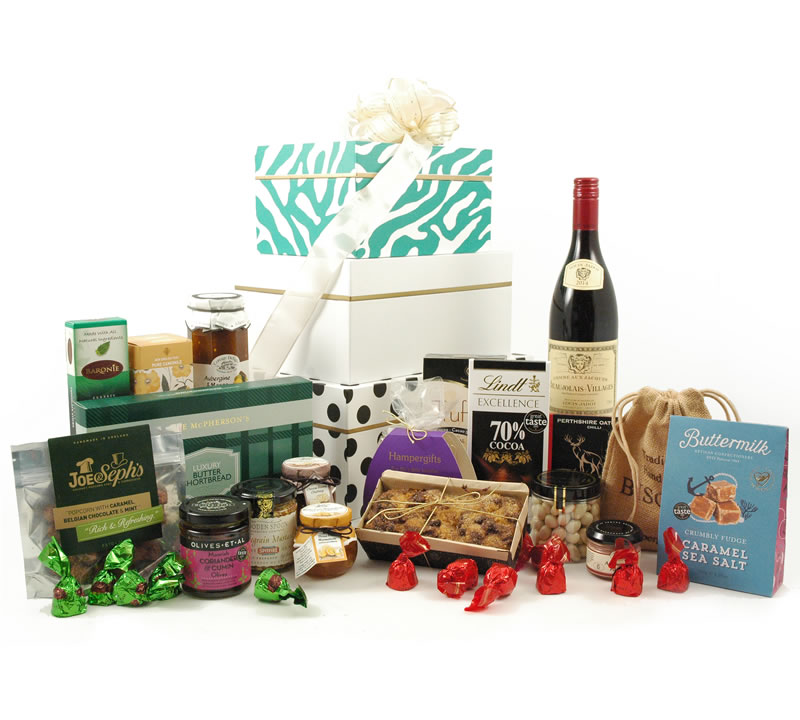 This sublime food & drink hamper is overflowing with four bottles of wine - each one an award winning treat - plus a vast selection of sweet and savoury delights.
Our Price £125.00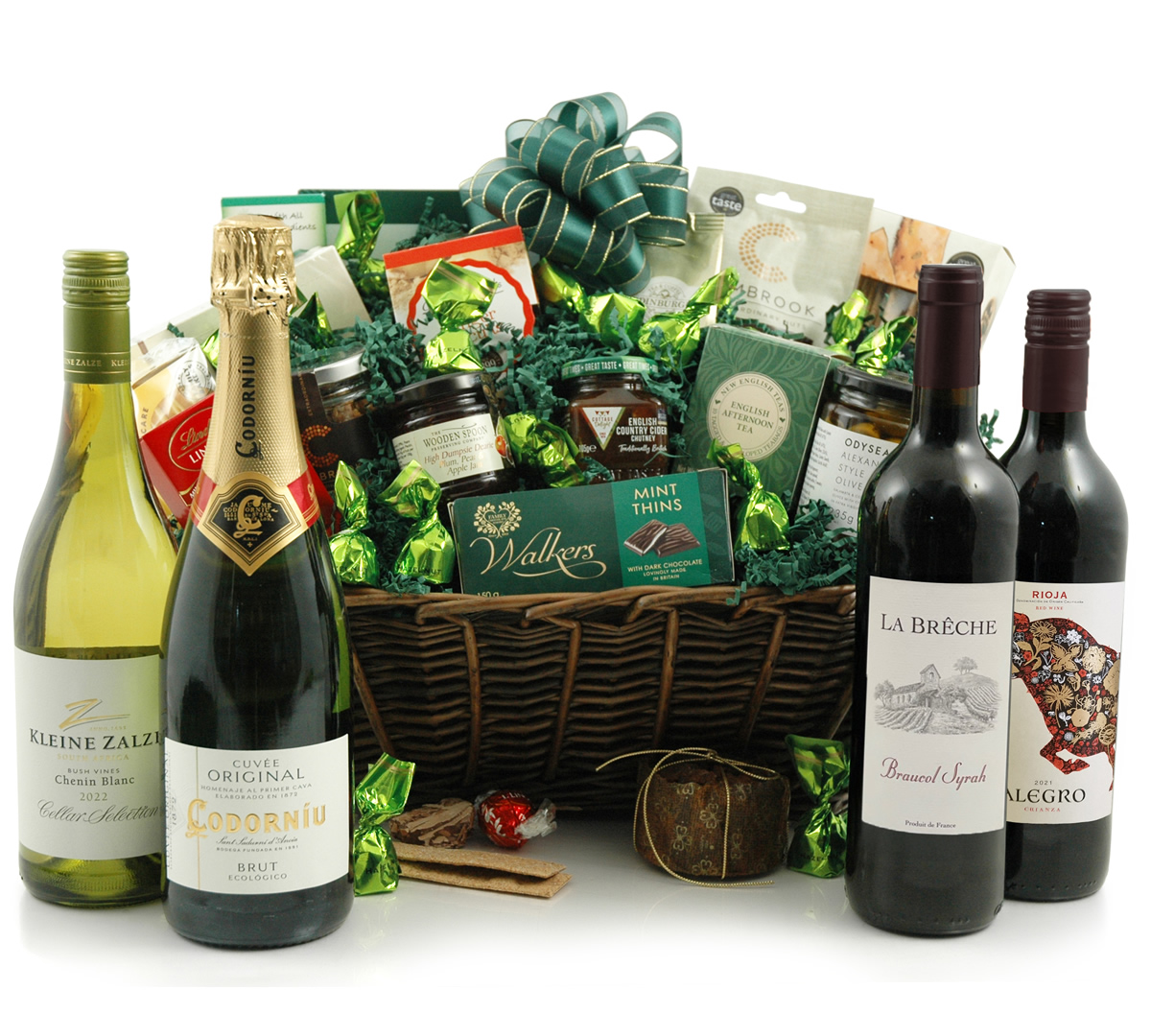 This huge rope-handled trunk is filled to bursting with 39 gourmet food & drink items. Featuring a stunning Champagne from Pol Roger, a special ruby reserve port and four bottles of connoisseur quality, award-winning fine wines to savour.
Our Price £400.00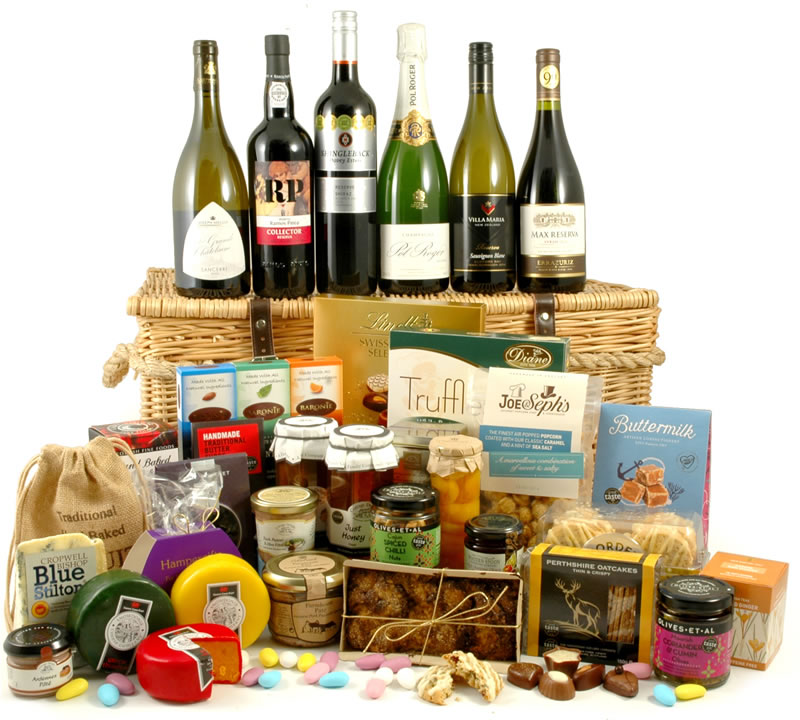 Serve the half-bottle of Louis Dornier Champagne alongside five American-style muffins in three mouth-watering flavours.
Our Price £64.99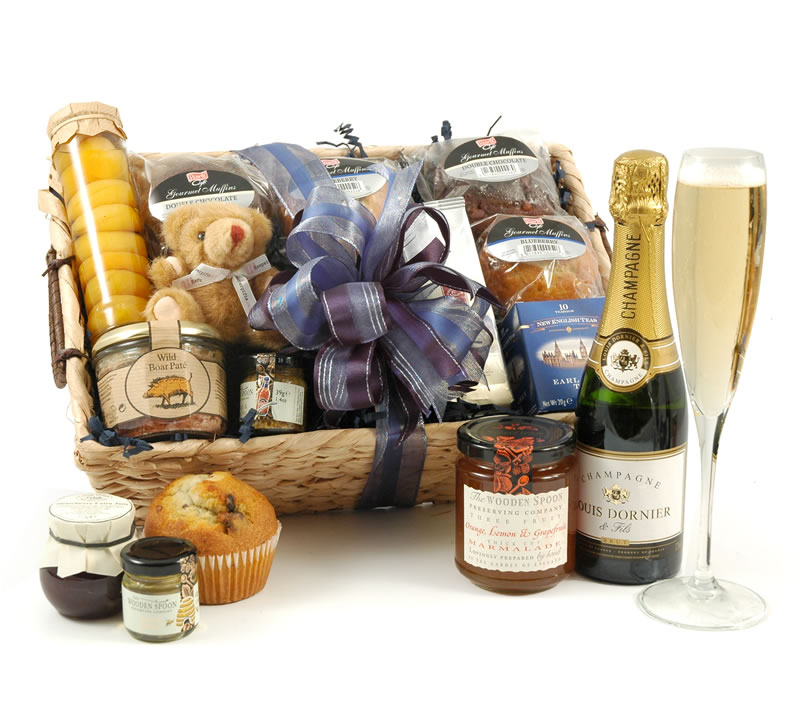 This gorgeous antique-wash chiller hamper is crammed with superb summer treats. The bright red straps secure two sets of cutlery, and a pair of ceramic plates.
Our Price £80.00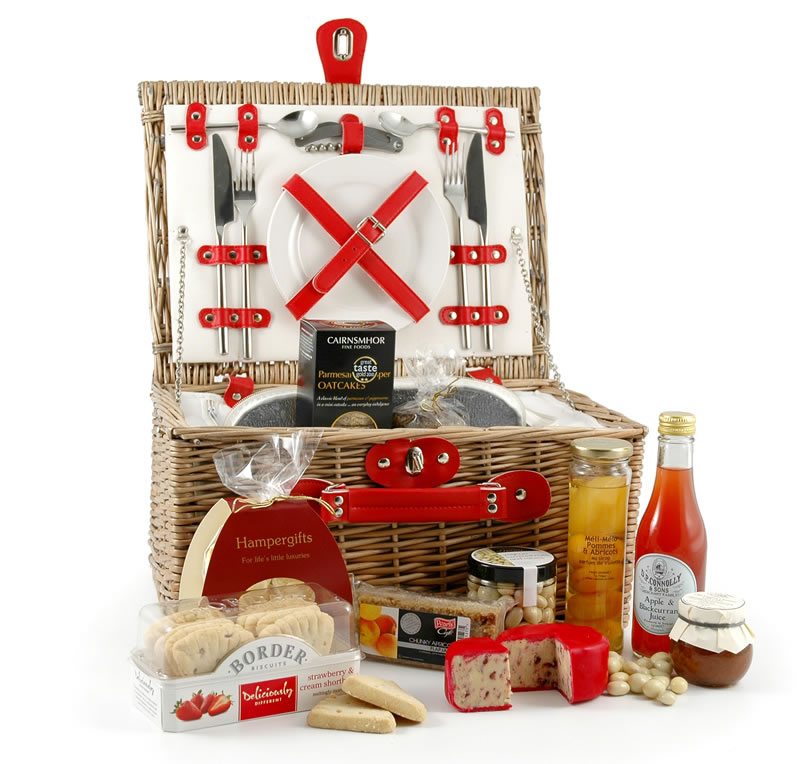 This Champagne & Gourmet Food hamper is the perfect luxury gift to indulge someone special. With an ideal mix of sweet and savoury, it offers something for everyone and celebrates every occasion.
Our Price £95.00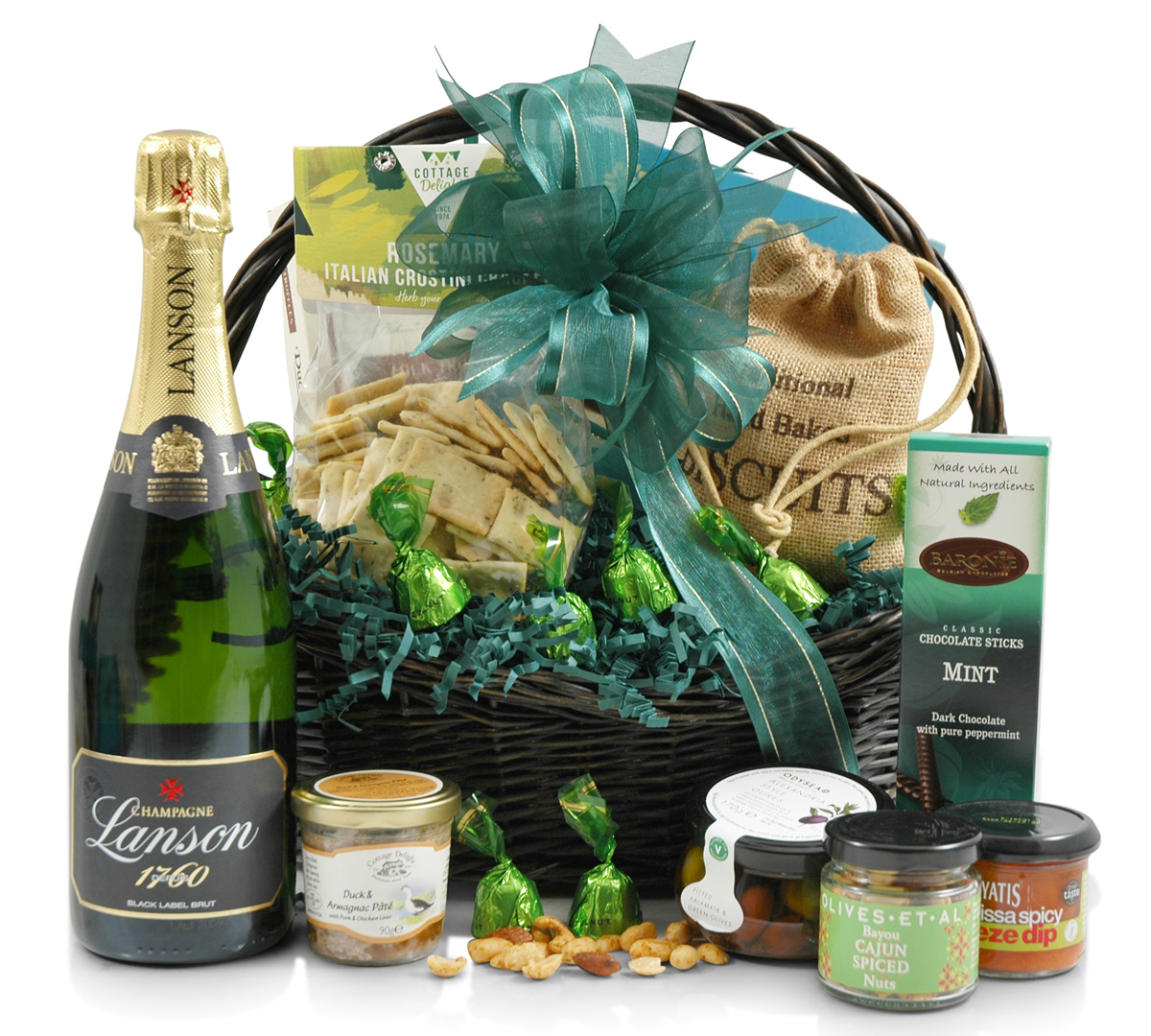 This wonderful hamper features five light flavoured Guantanamera Cristales Cuban Cigars plus a bottle of Glenlivet 12 year old - one of the most famous single malts in the world. You'll also discover an abundance of other luxuries including a rich ground Brazilian coffee, honey & whisky mustard, award-winning spiced nuts and Belgian pralines.
Our Price £140.00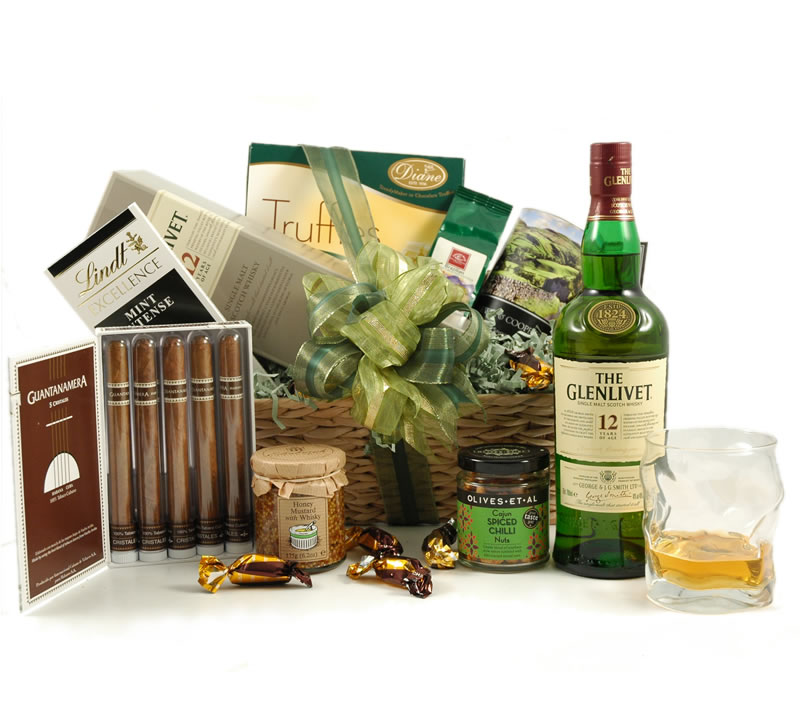 You'll barely be able to lift this superb basket, which is packed to the brim with an incredible selection of food and drink.
Our Price £175.00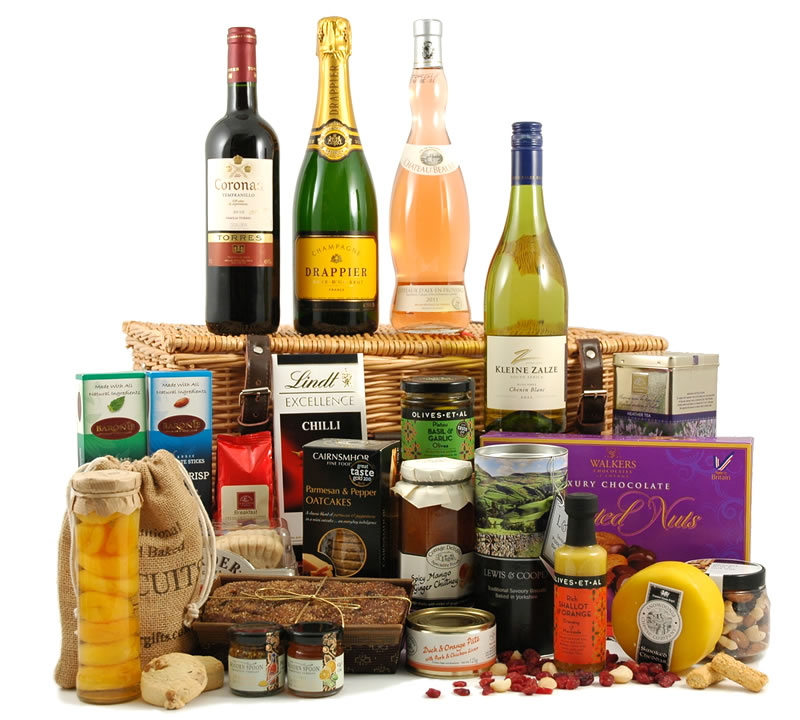 This huge lidded basket is absolutely heaving with first class food and drink. To drink we have a bottle of bubbly, a pair of award-winning wines and a stunning Italian Prosecco. The jam-packed basket includes Pheasant Pâté, Red Wine Vinegar, Award Winning Nuts, Apricots in Syrup, Jam, Chocolates, Honey, Biscuits, Coffee and a huge number of other delights.
Our Price £200.00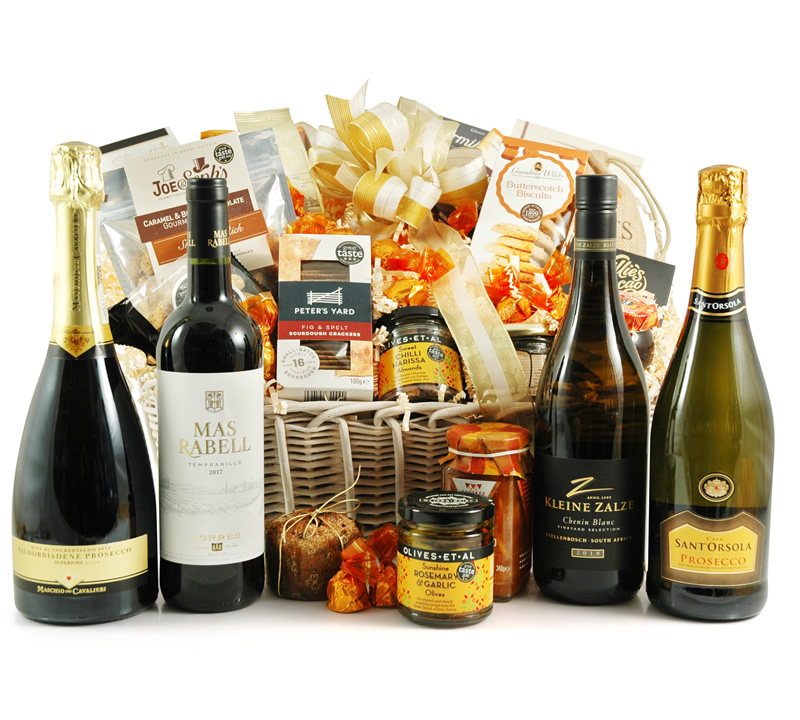 Pol Roger was the favourite champagne of Sir Winston Churchill, who famously described Pol Roger's residence as 'the world's most drinkable address'.
Our Price £80.00