Limited Time Only! | Save 15% off Orders at Chemist Direct!
Chemist Direct Affiliate Newsletter
---
Limited Time Only! | Save 15% off Orders at Chemist Direct!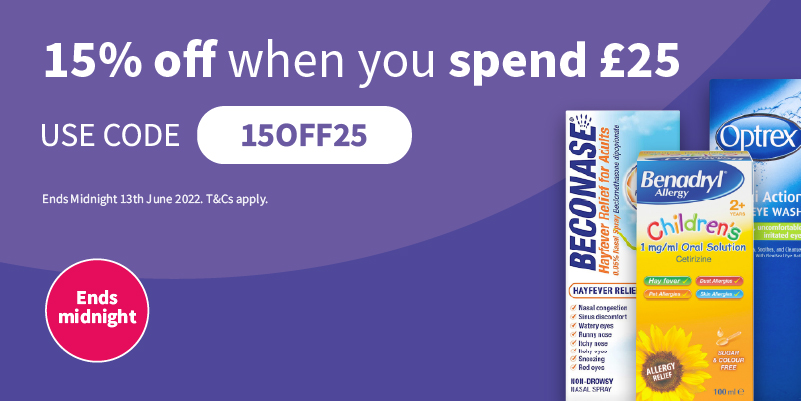 Get 15% off orders over £25 at Chemist Direct!
Use code 15OFF25 at checkout.
Be quick, this code is live on 13-06-2022 for 24 HOURS ONLY and expires at midnight!
Terms apply, UK delivery only.
Click here to find out more.
Sensodyne Repair & Protect Original Sensitive Toothpaste provides you with a daily toothpaste that helps repair, strengthen and protect hypersensitive teeth.
Our Price £5.00

Garnier Ambre Solaire Protection Lotion SPF50+ keeps your skin protected from the harmful effects of UVA and UVB rays. It is enriched with antioxidants like Vitamin C that protect against immediate skin damage and long-term damages like premature skin ageing.
Our Price £5.00

Treat throat and mouth infections with an antibacterial mouthwash, for common conditions, or for use after dental surgery.
Our Price £5.00

Relieve allergic symptoms for up to 24 hours with Clarityn Allergy 1mg/ml Syrup Mixed Berries Flavour. Once a day dosing. Sugar and gluten free.
Our Price £5.00

Complan Original is a nutritious drink fortified with 26 vitamins and minerals to give you a helping hand when you are in need of additional nutritional support. Suitable for vegetarians. Gluten Free.
Our Price £4.99

Allevia Hayfever Allergy Relief Tablets are non-drowsy and one tablet a day helps to relieve symptoms associated with hayfever including Sneezing, Itchy, runny, blocked nose and Itchy, watery and red eyes.
Our Price £9.45

Allerief 2mg/5ml Oral Solution provides relief from hayfever and other common allergies with this strawberry flavour solution.
Our Price £4.90

Lactulose Solution is a natural laxative that regulates the bowel gently and is used for the treatment of constipation, including chronic or habitual constipation.
Our Price £4.49

Panadol Extra Advance Tablets provides extra effective pain relief from headaches, period pain and the aches & pains associated with colds & flu.
Our Price £4.39

Hypromellose 0.3% Eye Drops - For Dry Eyes are also known as 'artificial tears'and are used in the eye to relieve dryness and irritation caused by a reduced flow of tears.
Our Price £3.49