LEDconnection - Join our affiliate programme with Affiliate Window!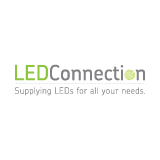 LEDconnection is a new way of buying all your LED lighting needs.  We are an on-line business focusing on value, providing our customers with every-day quality LED bulbs and stocking some of the more unusual LED products for specialist needs.  By cutting out several of the middle stages (high street shop, importers, etc.) we are able to offer a competitive and realistic price for the home and business owner or for re-sale to your customers. Furthermore we have the most competitive prices for bulk buying built into or product options.
Driverless LED GU10 bulb
The LEDconnection Affiliate Programme: 
Earn up to 10% commission (see programme for full details)
30 Day cookies length
Fast growing and new market
Bulk buying options for trade customers
Economical & environmentally friendly products
High conversion rate + large average basket size.
Unique 3 week delivery option
Why joing the LEDConnection Programe?
Not only do we offer a fantastic and very competitive commission rate, for the first month that we are live we are offering a bonus as our launch incentive, we will be offering an ADDITIONAL 2% commission on all commission groups.
Ultra-Thin LED down light (just 13mm thick!) 
Message for the Director:
The main reason I got involved in LED technology is because it's simple, VERY cost effective and environmentally friendly. I strongly believe that LED lighting is the future for general lighting products and the market for these products is massive. Furthermore the potential energy savings for general consumers is also massive.
The main downside to LED lighting is the initial cost of the products, normally costing several times that of incandescent equivalent products but vastly superior in life time costs once energy bills are taken into account. The goal of LEDconnection is to bridge this price gap and provide quality LED products at affordable prices. If we can provide these products to the general public at affordable prices, we win, they win and the environment wins.
We welcome you to join our affiliate programme and look forward to building mutually beneficial relationships with all of our affiliates.
Should you have any queries at all, please do not hesitate to contact me.
Best regards,
Luke Dudley
Luke@LEDconnection.co.uk
Some eye catching banners to consider using:
Tags: led, LED Lighting, LED lights, LEDconnection, Light bulbs, Lighting