LateRooms.com News Update!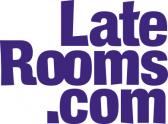 LateRooms.com UX out-performs key competitors in hotel website benchmarking
A new study benchmarking the user experience of the LateRooms.com site against other UK hotel websites was revealed in September and indicates how it's out-performing some key competitors in the market.
The study which was undertaken for the second year running in July by Lumivo, a digital research company, measured LateRooms.com against Booking.com, ebookers.com, Expedia.co.uk, Hotels.com and lastminute.com.
As part of the benchmarking Lumivo asked just over 1,000 people to complete two tasks (170 participants for each of the six sites): 1) finding a hotel from the hotel websites' homepage and going through to the booking form and 2) finding a deeplink from Google for a London hotel and taking it through to the booking form.
Number one for visual appeal
We took the number one slot in the 'Organisation and Visual appeal' category, significantly ahead of lastminute.com and Expedia. Lumivo said: "Significant improvements in many areas including visual appeal (up from 39% to 58%) and navigation layout (33% up to 56%)."
We're heading in the right direction.
The changes we've made since the last study include the new inspirational Homepage, adding photos into Search Results and user experience enhancements to the Booking Form such as a progress bar which have performed really well with users.
Benchmarking studies like this are really important…
… to understand how we're doing. It's easy to forget all of the changes that we've made in a year and this study helps us to reflect on changes and shape future developments. The benchmarking study also backed some of the things that we're focusing on to improve in the future and we've got our goals firmly set on taking the number one slot overall!
10,000 customers and counting rate LateRooms.com excellent!
LateRooms.com has reached the 10,000 mark for excellent rated customer reviews posted on Feefo, the review monitoring software.
Feefo is monitored by our dedicated Social Media team, who are on hand to pick up and respond to all LateRooms.com brand mentions across the social web.
What is Feefo?
Feefo is an independent ratings and review service.  When a customer makes a booking they will be sent an email asking them to review their booking experience with LateRooms.com on Feefo. All reviews receive a response from the new Social Media team on behalf of LateRooms.com and the customer will be notified of the response.
The reviews give a snapshot of how customers rate the service, these reviews are then pushed from Feefo to Google. Google then provides a rating on a scale of 1 – 5 and creates an overall star rating for the brand.
Best Kept Secrets Awards 2014… winners announced!
LateRooms.com has declared it's winners in the Best Kept Secret Awards 2014.
For the past four weeks guests and industry experts have been voting for their favourite hotel views, breakfasts, spas, golf courses and many more quirky categories. We're pleased to share that the winners of LateRooms.com's Best Kept Secret Awards 2014 were finally revealed today!
The Best Kept Secret Awards are now in their 5th year and have been able to expand with two new categories due to the success from the previous years.
All the finalists will receive a certificate and window sticker and online badge to put up around their hotel and on their website. The winners will also be given a press release to use should they wish to do any PR around the awards in the coming weeks.
"Every year our Best Kept Secret Awards showcase our fantastic selection of UK hotels, and 2014 has been a particularly strong year especially with the introduction of two new categories; Perfect Porter and Marvellous Maid which really shows the growing popularity of the awards.
Click here for the Winners of The Best Kept Secret Awards 2014, to view judges' comments and a word from the winners.
If you have any questions regarding LateRooms.com please feel to email us at laterooms@affiliatewindow.com
Many Thanks,
The LateRooms.com Affiliate Team