Laterooms.com - Feb Update 2014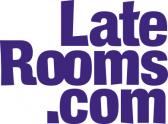 Laterooms.com update - February 2014
Mobile
We have been working on ensuring all of our affiliate tracking is present on our mobile site, and the great news is that this is now completed!
Now all affiliate traffic to LateRooms.com automatically redirects to the correct site for the device the customer is on (previously mobile traffic was still going to our desktop site) so this will be a more positive experience for the user.
Please ensure LateRooms.com is listed on your mobile sites & apps and that users know our mobile site will track their bookings. Please get in touch if you have any mobile specific opportunities that we can get involved in!
TV advertising
LateRooms.com are the official sponsor of all Channel 4's travel programming for the duration of 2014 – this will see LateRooms.com feature on all Channel 4 outlets, including Channel 4, More 4, 4seven and on-demand service, 4oD, and will mean that viewers will be seeing the brand's adverts pop up amongst some of the channel's most popular programmes such as Four in a Bed, Coach Trip and A Place In The Sun.
We developed a series of unique idents which feature some real beauties of the hotel world and enticing room scenes 'popping up' out of a LateRooms.com storybook:
LateRooms are also featuring on ITV's Tipping Point, offering contestants on the latest series of the show the chance to win one of nine fantastic hotel stays donated by hotel partners. The show will be airing weekdays until the end of May and there is also a link to this promotional page from the LateRooms.com homepage and will be featured on future customer emails.
Branded taxis 
200 LateRooms.com branded taxis have hit the streets of London and Edinburgh to help drive top of mind consideration of LateRooms.com for consumers' next hotel booking. Be sure to tweet a pic if you see one!
Please get in touch with us on laterooms@affiliatewindow.com, we'd love to hear from you!