---
Last Chance To Save 5% At Hampergifts.co.uk
This week, Hampergifts.co.uk are delighted to bring you a selection of Gift Towers. Stacked sky high and packed full of treats and gourmet food, these gift towers are guaranteed to wow the lucky recipient. Made up of beautiful re-usable gift boxes designed exclusively for Hampergifts, all gift towers are stunningly presented and hand-tied with a flourish of coloured ribbon. Don't forget to make the most of it and save 5% on all orders when you enter JUL5HAMP at the checkout, hurry the offer ends Sunday 31st July 2016!
This little tower packs a lot of treats. Featuring creamy caramels, crumbly fudge and of course an abundance of chocolates - all waiting to be discovered inside three heart-shaped gift boxes.
Our Price £27.99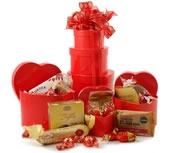 You've never had cookies and cake like this before! Five gorgeous stacked boxes open to reveal a tempting selection of cookies, biscuits and cakes.
Our Price £33.50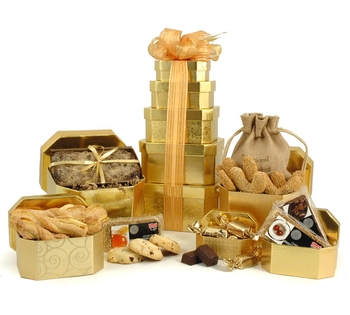 Take a well deserved mid-afternoon break with our gorgeous Tea & Coffee Break Tower. Presented in five cocoa and sky blue gift boxes, the carefully selected contents are sure to please everyone in the home or office.
Our Price £34.99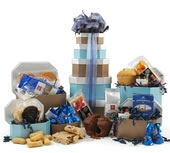 Demolishing this elaborate construction will be a special treat! Each of the striking, reusable burgundy & silver boxes is filled to the brim with indulgences like Honey Roasted Nuts, Hazelnut Praline Pieces, Sugared Almonds and more.
Our Price £32.50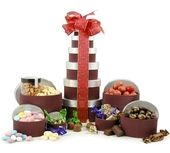 Relax, run a hot bath and let our luxurious Bath themed tower do the rest. This exclusive treat is jam packed with a fantastic selection of scented bath products for the ultimate pampering session.
Our Price £40.00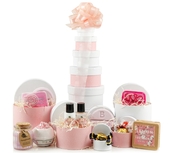 Standing at 45cm high, this one's sure to make a towering impression!
Our Price £45.00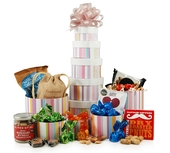 Our top-of-the range chocolate tower is a soaring 50cm tall and features 8 golden gift boxes, each one filled to the brim with a vast amount of chocolates, cookies and other sweet treats.
Our Price £49.99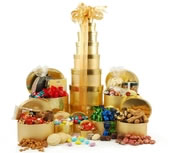 Celebrate the best of British with our beautifully designed British food tower. We've scoured the country to find the best local food, then carefully packed it into attractive blue and silver gift boxes.
Our Price £54.99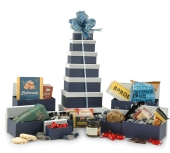 With its 6 beautiful, stacked boxes, this luxury food tower will impress even before the recipient unties the ribbon to find out what's inside!
Our Price £60.00