---
Last Chance For 15% Off At Hampergifts
There's only one more day left to get 15% off hampers at Hampergifts.co.uk, so you'll need to be quick to get the perfect Christmas gift this winter. Just enter CHRISTMAS15 at the checkout to take advantage of this great deal.
With over 30 Christmas hampers available, you'll find just the right one for friends, family or corporate clients. There's one to suit every taste, from the elegant lidded Christmas Treasures, to the great value Christmas Surprise basket and our best selling Christmas Treats Tower. And with prices ranging from just over £20 for our Merry Christmas Hamper, right up to £400 for our top-of-the-range, luxurious Supreme, there's a hamper gift to suit every budget.
This elegant seagrass and wood basket will impress from the moment you set eyes on it. But it's when you taste what's inside that you realise just how special it is. Nibble on luxurious cinnamon chocolates, glaze your cold cuts with the honey & whisky mustard, tuck into the beautiful apricots in syrup or even spice up your cooking with some freshly grated nutmeg. Oh - and don't forget to try the medal-winning garlic olives, large christmas fruit cake and gorgeous brandy pudding. It wouldn't be Christmas without it.

Our Price £55.00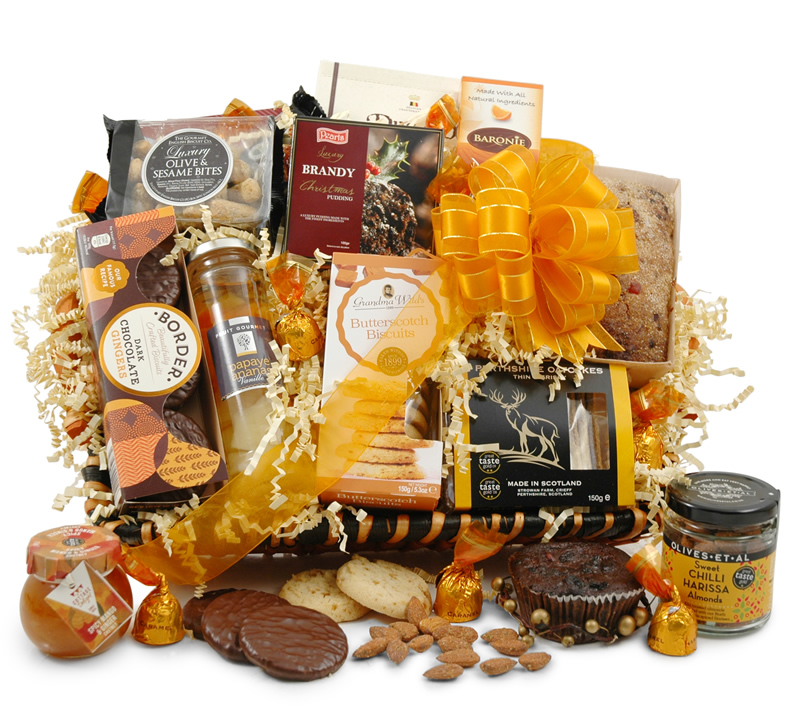 Say Merry Christmas in style by sending this attractive hamper filled with an abundance of sweet treats. Savour the exotic rose & lemon Turkish delight, enjoy the crunchy honey biscuits or nibble on the award-winning cranberry & white chocolate fudge. Of course it wouldnt be Christmas without chocolate and we've included some delectable Belgian truffles here too. Finish by sampling the fruity pineapple & papaya chunks in vanilla syrup. Stunningly gift wrapped with festive red ribbon.

Our Price £22.99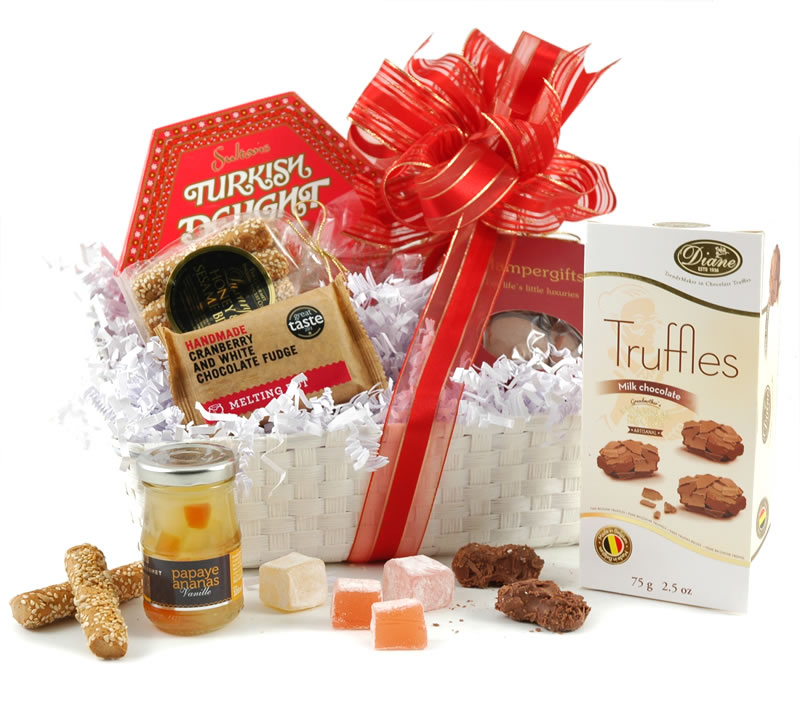 Always one of our most popular Christmas hampers, this charming gift is crammed with Xmas delights. Including a Brandy Christmas Pudding, a box of mouth-watering Mince Pies, After Dinner Chocolate Mints, a mini pot of Acacia Honey and a whole lot more. Arriving beautifully gift wrapped with festive green ribbon, this is an ideal yuletide gift for relatives, staff or colleagues.

Our Price £25.99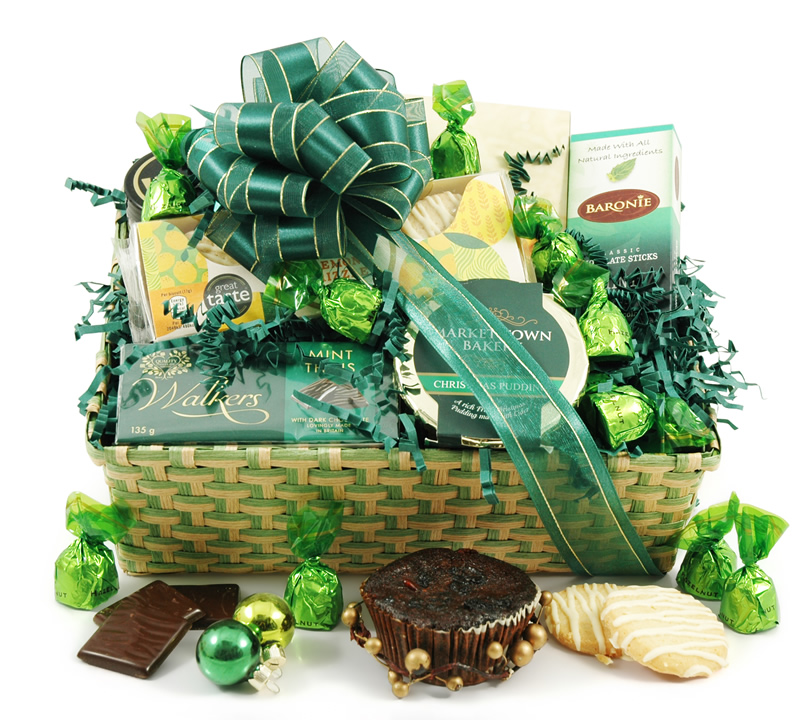 There's a fruity, nutty theme to this wonderfully attractive xmas hamper. Start by sharing out the chocolate roasted nuts - with cashews, brazils & macadamias. Cut a thick slice from the raisin and cherry filled fruit cake, or enjoy the unusual yoghurt coated brazils & cranberries. The hand woven basket also features a moist cranberry flapjack, cherry brandy liqueurs as well as turkish delights domes. Finally, quench your thirst with the pure pressed blackcurrant and apple juice.

Our Price £27.50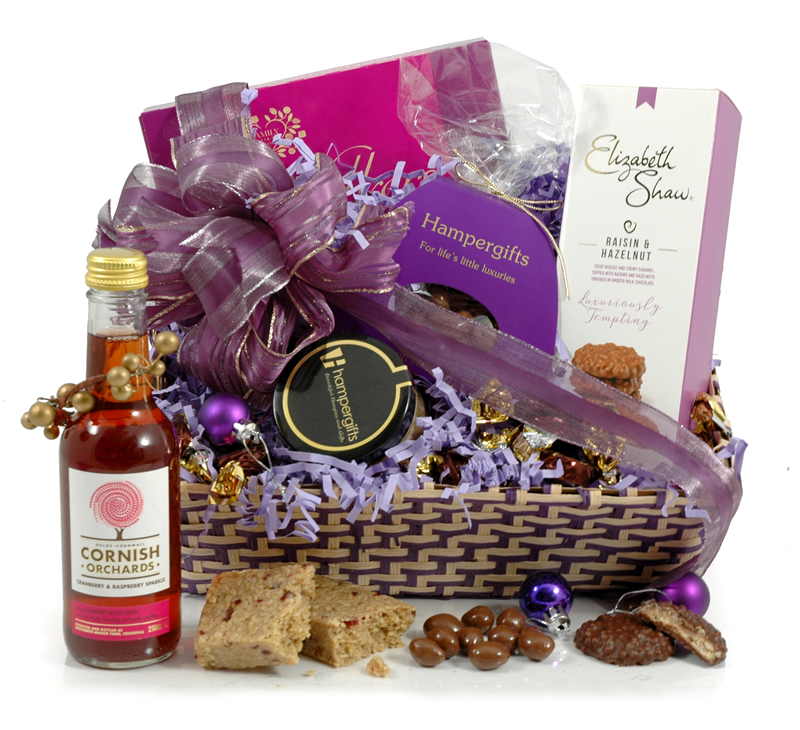 Our unique Silver Christmas Tower has six layers of gorgeous gift boxes packed with a perfect blend of sweet and savoury treats. The award-winning extra mature cheese truckle will go perfectly with the baked mini breadsticks and the tangy caramelised onion chutney. And the rich brandy Christmas pudding can be savoured alongside a whole feast of other goodies including fruit filled marzipans, chocolate caramels, savoury tomato bites and sweet apricot flapjack. Arriving beautifully gift-wrapped with ribbon this will make a perfect personal or corporate Christmas gift.

Our Price £37.50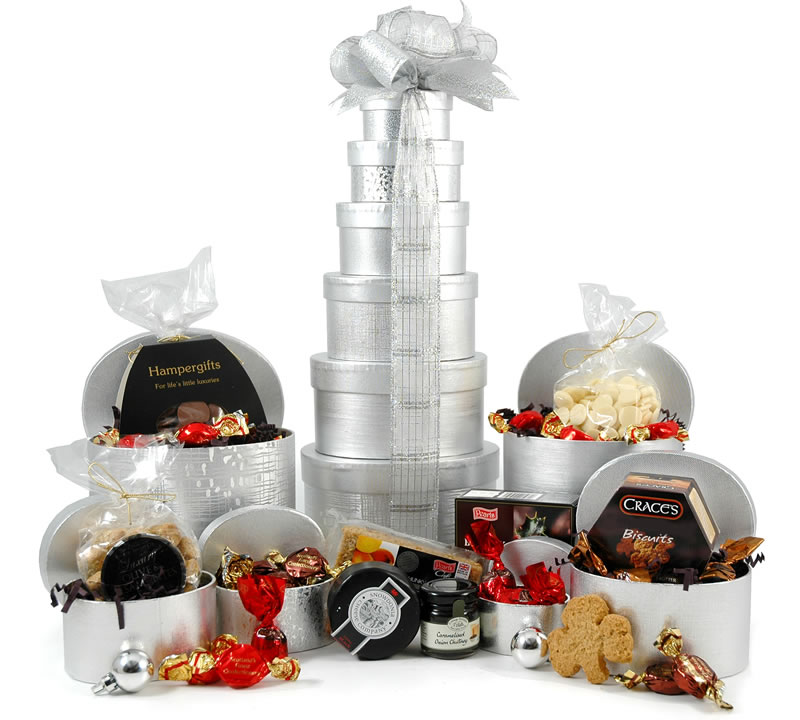 This stunning Christmas gift has a whopping seven layers of beautiful green and gold gift boxes - each one packed with delicious sweet treats. Standing at an impressive 45cm tall, the tower contains a multitude of hidden surprises including Lemon Butter Cookies, Crumbly Fudge Cubes, award-winning Strawberry Jam, Turkish Delight Domes, Caramels, Marzipans, a lovely Brandy Christmas Pudding and of course Chocolates - of all flavours & varieties! Arriving beautifully gift-wrapped with ribbon, our best-selling Xmas tower is sure to impress this Christmas.

Our Price £39.99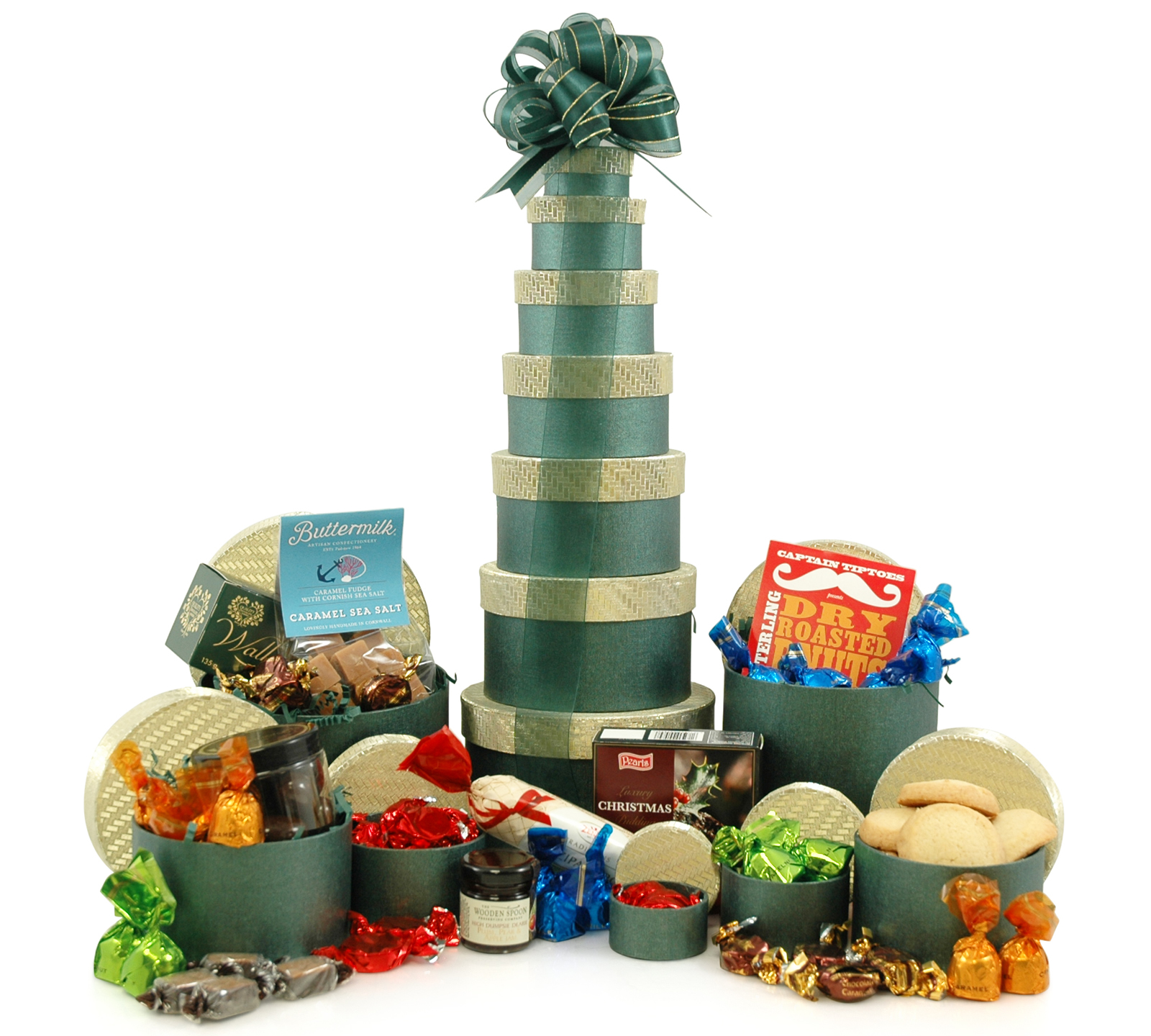 Simply a classic, this Port & Stilton hamper is a cut above the norm. The generously sized Blue Stilton wedge is from the famous Cropwell Bishop creamery. Possessing a velvety-soft texture, it's melt in the mouth delicious and will go perfectly with the Fine Ruby Port. The port is soft, rich and well balanced - perfect for an after dinner drink. You'll also find a trio of chutneys and pickles which will complement the parmesan oatcakes and the moreish tomato & sesame savoury biscuits. The gift is finished with a flourish of blue ribbon.

Our Price £44.50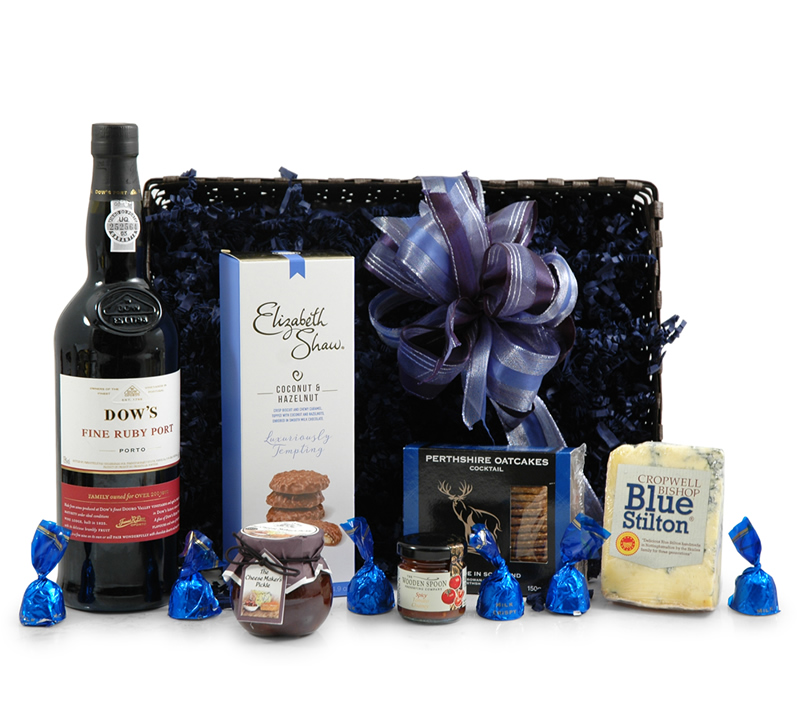 This classic wicker basket is choc full of the very richest Christmas treats, treasures and nibbles. Try the smooth smoked salmon pâté with the rosemary savoury biscuits for an ideal starter. The award-winning Spanish Sauvignon makes a great accompaniment to the moist, traditional brandy Christmas pudding. And the Belgian chocolate caramels are perfect for an after-dinner extravagance. And whoever you choose to receive this beautiful gift can finish off by sampling the medal-winning Bramley apple sauce, twin pots of mustard and marmalade and gourmet Belgian truffles - if they have any room left!

Our Price £52.99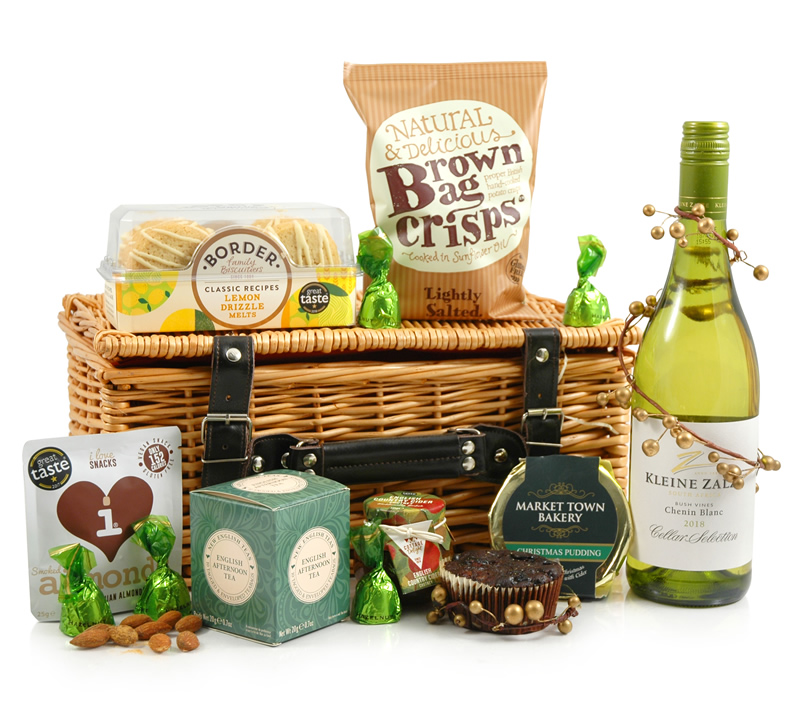 Our top-of-the range chocolate tower is a soaring 50cm tall and features 8 golden gift boxes, each one filled to the brim with a vast amount of chocolates, cookies and other sweet treats. This is pure indulgence on a grand scale! The contents include sugared almonds, lemon butter cookies, honey roasted nuts, Belgian truffles, chocolate coated Brazils, fruit cake, flapjack, caramels, hand-made honey biscuits and a huge amount more. The sheer number of goodies mean this gift is perfect for sharing - either in an office or for the whole family. And like all our towers it arrives beautifully gift-wrapped with our signature ribbon, ready to present to the lucky recipient.

Our Price £54.99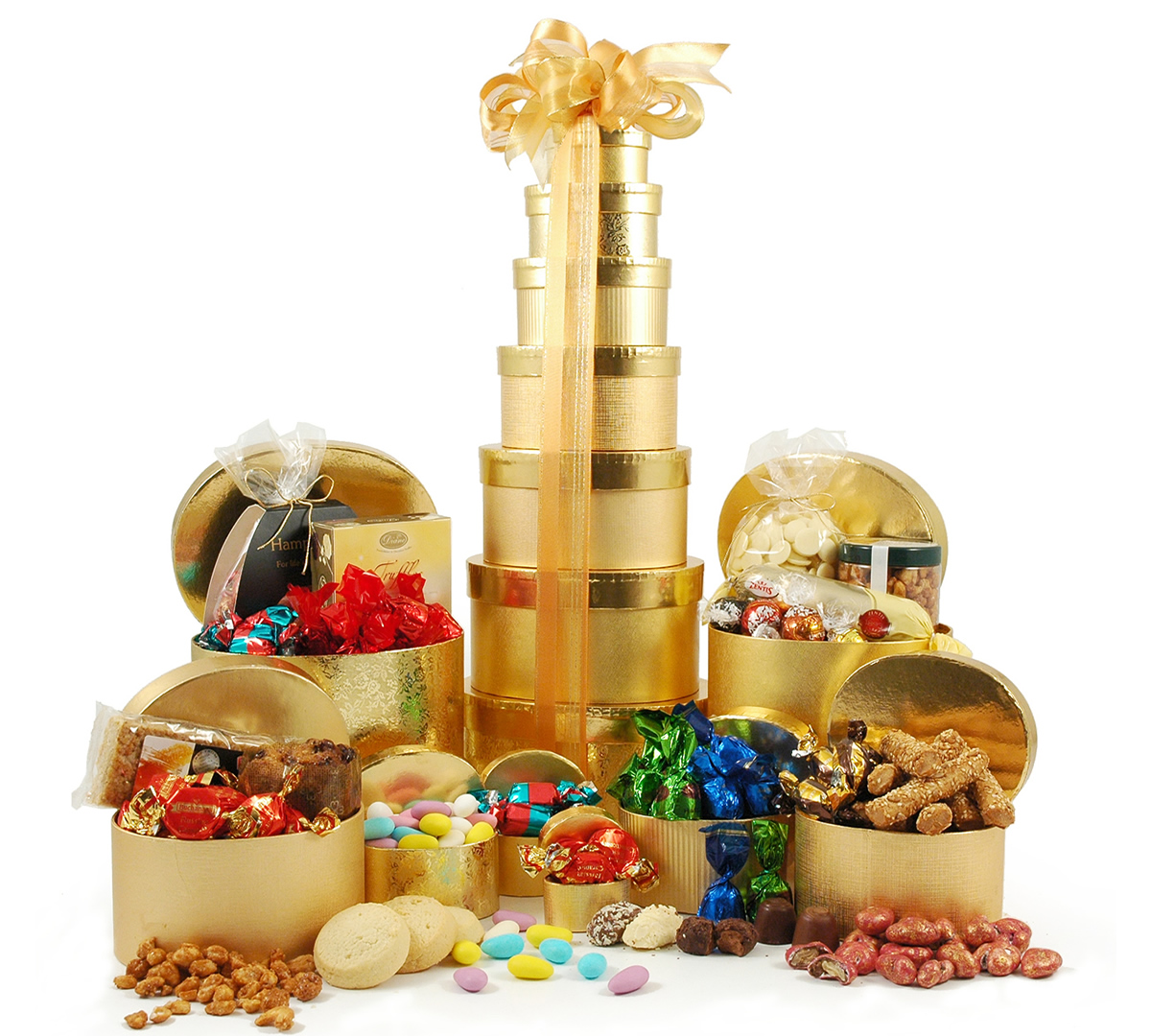 Taking centre stage is a full-bodied Spanish Tempranillo from master winemaker Miguel Torres. This ripe, rich wine will go perfectly with the smooth salmon pâté, peppery parmesan oatcakes, or the luxury chocolate Brazils. This hamper really is one for the connoisseur and features no less than 5 medal winning treats, including the addictive rosemary & chilli nuts and a fruity spiced pickle - the perfect accompaniment for those Christmas cold cuts. Rummage further to find smooth ground coffee, cranberries in maple syrup, and a gorgeous caddy containing loose leaf heather tea. The deep whitewash wicker basket is heaving with goodies, and will make a beautiful storage basket when the luxuries are gone.

Our Price £69.99