Last Chance Clearance - Everything Half Price!
---
Last Chance Clearance - Everything Half Price!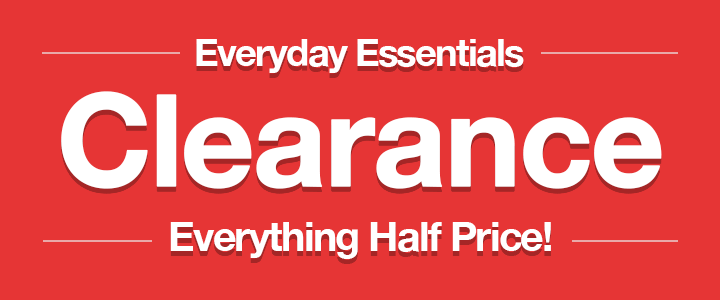 Last Chance Clearance at Chemist Direct - Everything Half Price!
Hurry offer expires - 29.02.20.
Click here to find out more.
Colgate Total Advanced Freshening Toothpaste gives your teeth advanced freshening and provides complete dental care for a healthy mouth.
Was £1.99 Now £0.80

TePe GOOD Reneweable Adult Toothbrush allows you to get an efficient clean from your toothbrush with this gentle brush made from bio-based plastic.
Was £2.06 Now £1.03

Whiten your smile with this easy to use, mess-free Activated Charcoal gel.
Was £14.99 Now £6.00

NIVEA Nourishing Care Hand Cream is formulated with caring Almond Oil and the unique NIVEA scent provides rich care and intensive nourishment that lasts for 24h.
Was £2.99 Now £1.20

Sunstar G.U.M Original White Toothpaste gently cleans teeth, while at the same time strengthening your teeth and gums.
Was £3.99 Now £1.60

Theramed 2 In 1 Whitening is an antibacterial and effective mouthwash that can offer you up to 12 hours of complete freshness and leave your teeth and gum protected against harmful bacteria and plaque build-up.
Was £1.15 Now £0.58

Quickies Nail Polish Remover Pads are thick, soft pads that remove nail varnish from the nails quickly and easily.
Was £1.49 Now £0.75

Clean your hands on the go with this travel sized anti-bacterial foam, kills 99.9% of bacteria.
Was £2.99 Now £1.50

Make flossing easier when you have to wear braces or retainers with this clever expanding floss.
Was £4.19 Now £1.68

No matter how sensitive your gums are, brushing your teeth can be comfortable as these soft filaments on the Tepe Select Toothbrush are kind to gums and teeth.
Was £1.04 Now £0.52