Last Chance: £10 Saving on All Curtains, Blinds and More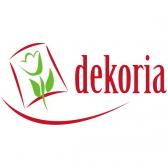 Hello Publishers,
Remember that our £10 voucher offer is valid for only a few more days, until 11:59pm on 28th Feb - don't miss out!
£10 Voucher on All Home Textiles Over £99
Until the end of Feb only we are offering a great saving of £10 on all orders over £99 across the website. Customers can choose from literally thousands of products on www.dekoria.co.uk and easily redeem their discount at checkout with discount code FEB99. Please note this offer is valid strictly until 11:59pm on 28th February 2018.
Why Dekoria?
Dekoria is a unique online shop for home textiles and decor for all styles, interiors, budgets and colour schemes with over 500 fabric options - making it easy for customers to co-ordinate textiles around the house or to mix & match. Offering standard sizes or made to measure textiles, Dekoria combines high end finish with an affordable price.
We also have a newly launched range of home decor such as rugs, mirrors, vases etc are the perfect way to complement Dekoria home textiles. Our website is full of interior design inspirations and easy to shop complete room design concepts.
Please contact ali@dekoria.co.uk for any questions regarding this offer or joining our programme.
All the best,
Dekoria Team
Tags: blinds and curtains discount, curtains and blinds savings, curtains and blinds voucher, discount, discount code, discount codes, discounts, home, offer, offers, savings, voucher, voucher code, voucher codes