Last chance for 1 x £100 voucher and £5 vouchers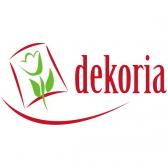 Hello Publishers,
This is the last chance to benefit from Dekoria's voucher offers for November, so we'd like to invite you to promote them this week. Both offers expire on 30th November 2017.
Competition: £100 Voucher to Spend at Dekoria
Our best performing Affiliate in November will be rewarded with a £100 voucher to spend on www.dekoria.co.uk Enjoy a shopping spree on us and shop for home textiles and decoration to give your home a mini makeover, or pass the prize to your customers and website visitors. Voucher will remain valid until the end of January 2018.
Money Off Voucher: £5 Saving on All Orders over £50 in November
A little extra goes a long way in converting interest to sales and our saving of £5 on all orders over £50 from 1st to 30th November provides just that. Vouchers are one of our Affiliates favourites - for a reason!
Discount code: NVMBR5
Expiry date: 30th Nov 2017

Enjoy a great last week of November with Dekoria.
All the best,
Dekoria Team
Tags: discount, discount code, discount codes, discounts, gifts, home, offer, offers, promo code, promotion, promotions, savings, voucher, voucher codes