Last 3 days of the BIGGEST SALE of the year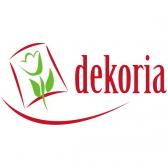 Don't miss out!
Our biggest across-the-website discount offer this year is on for 3 more days, until 11:59pm on 31st Dec.
15% off all orders over £50
For a limited period, from 26th until 31st Dec 2017, we are offering a great 15% discount on EVERYTHING for orders over £50. Customers can choose from over 60,000 products online, including e.g. standard size and made to measure curtains and blinds, furniture covers, cushions, blankets, towels, mirrors, vases, clocks and more. Dekoria's product ranges are designed with all types of interior styles in mind, from Scandinavian spaces and modern loft styles to shabby chic and traditional or opulent interiors and for all colour schemes. With over 500 fabric choices, we're sure to have the perfect accessory for all homes.
Discount Code: BOXNYE15
Live: 0:01am on 26th Dec 2017
Expiry: 11:59pm on 31st Dec 2017
As usual, please contact ali@dekoria.co.uk if you have any questions about this offer.
We wish you a lovely Christmas and a profitable festive week with Dekoria's latest offer,
Dekoria Team
Tags: discount, discount code, discounts, home, offer, offers, promotion, promotions, savings, special offers, voucher, voucher code, voucher codes