L.K.Bennett Urgent Notice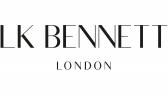 Dear Affiliates
Hope you're well. We are writing to inform you of the latest update in regards to L.K Bennett.
Unfortunately we will be pausing the program with immediate effect, as they have gone into administration.
Please can you therefore pause any activity and remove affiliate links.
We will continue to work closely with L.K Bennett to keep all publishers informed of any updates as and when we receive them.
If you have any queries, please get in touch.
Thanks
L.K Bennett & Awin affiliate team