L.K Bennett: New Season Style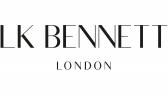 Dear Affiliates,
Please take a look at some great new season shoes at L.K.Bennett.
Get in on the ground floor with on-trend flats, discover your inner coquette in a kitten heel, or ascend to great heights in statuesque stilettos, it's up (or down) to you. So, which heel height will you choose? 
Shop New Season Shoes:
FREE UK DELIVERY
On orders over £250 
Remember to replace !!!ID!!! with your own publisher ID.
Happy Promoting
The L.K.Bennett Affiliate Team