---
Kids New Arrivals at Sock Shop - Perfect For Back To School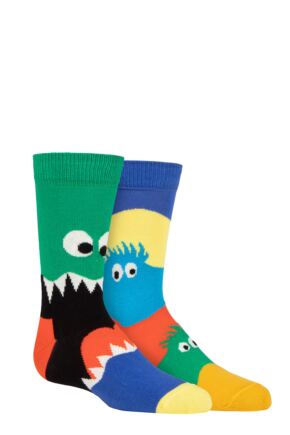 Kids New Arrivals at Sock Shop.
Take a look at the latest kids' socks in a range of styles, colours and patterns. To make sure your little one is the coolest kid in school, Sock Shop has you sorted for all the perfect back to school socks and more. 
Click here to find out more.
Maybe the most fun they'll ever have with socks! This Falke Colour your own Socks Gift Set is the perfect gift for children just starting to get used to numbers and letters. It comes boxed with a pair of children's socks with 360-degree-printing around them, and a set of four mixed fine tip fabric marker pens so they can colour in the images on the socks to their heart's content.
Our Price £19.99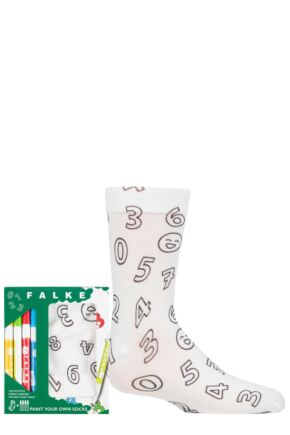 Mushrooms grow in the dark... and these socks glow in the dark! These boys' and girls' Falke Glow in the Dark Mushrooms Organic Cotton Socks are a unique and rather stylish look, featuring an all-over woven design with mushrooms and fireflies, and that lights up when the lights go down.
Our Price £8.99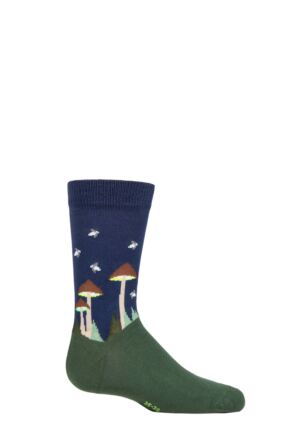 A sweet treat that has absolutely zero calories and won't cause cavities? Yes, when it's these Happy Socks Sugar Rush Socks! This twin pack of kids' socks are saccharine-sweet and bright as candy, covered by classic sweets, lollipops and other sugary confections, and are made with sparkling glitter detail toes and cuffs for extra excitement.
Our Price £9.99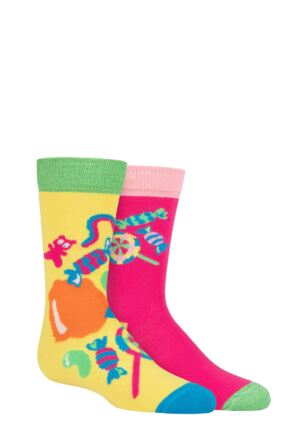 If you've got a space-obsessed youngster, then these Happy Socks Spacetime Socks will put booster rockets on their imagination! These space-themed kids' socks have exciting, super-bright images of planets, stars, space rockets and space cats (yes, space cats!) spread across the two pairs, plus colourful contrast cuffs, toes and heels.
Our Price £9.99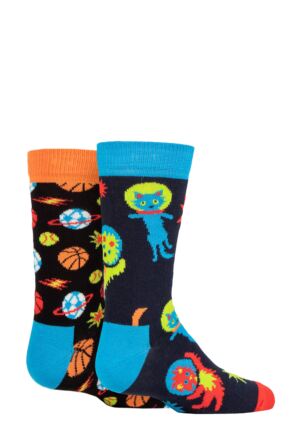 What kid doesn't love a friendly monster? With two crazy full leg designs on crew-length socks, these Happy Socks Monsters Socks let your own little monsters turn their feet and ankles into colourful, ugly-but-happy creatures. With two different, colourful and bright patterns per twin pack, you won't have to ask them twice to pull their socks on.
Our Price £9.99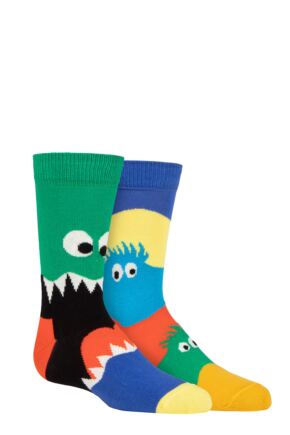 Healthy eating is always OK – and that's what these Happy Socks Okay Cereals Socks are all about! The two pairs of kids' socks in this Swedish-designed twin pack come as two different styles, an all-over image of splashing milk and cereal and a pair decorate with a mix of cherries, doughnuts and pizza helping make up the word OK.
Our Price £9.99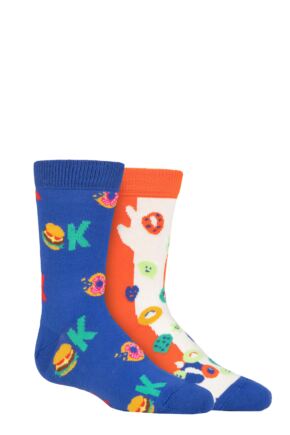 Every child should become the best of friends with healthy fresh fruit, and these Happy Socks Fruit Mates Socks will help to reinforce that message. This twin pack of bright, cheery kid's socks show two cherries together on one pair and a bunch of bananas out for a tandem bike ride holding hands (just like the best of friends do) on the other.
Our Price £9.99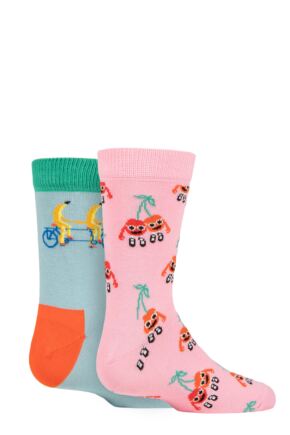 Kids will enjoy eating even more (if that's even possible) when they're wearing these wacky Happy Socks Food Friends Socks! The steadfast food friends are all joined hands in a chain surrounding one pair of these colourful socks, while the other pair of fun kid's socks is decorated with rows of healthy greens, fun fried eggs, slices of pie and other yummy delights.
Our Price £9.99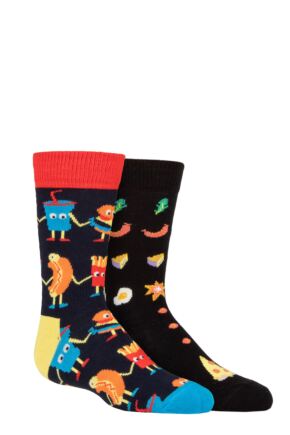 Brightly coloured and full of fun, the adorable doggies and dachshunds decorating these two pairs of Happy Socks Dogs Socks will make these kid's socks sure-fire favourites. How long will it take them to notice that the sausage dogs stretching around one pair have parrot passengers? Will the psychedelic pooches on the second pair inspire equally colourful art from your children?
Our Price £9.99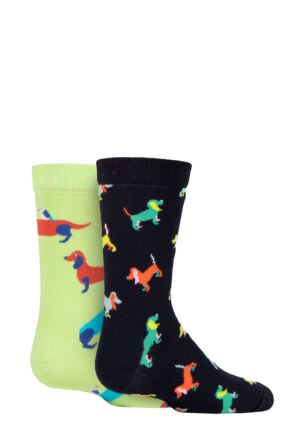 Children's socks with more prehistoric 'rawr'! These Happy Socks Dinos Socks are a twin pack of colourful kid's sock designs featuring their favourite dinosaurs to spark their imagination and curiosity. Designed in Sweden, these dinosaur socks are knitted from a quality, organic cotton-rich fibre blend for happy, healthy feet.
Our Price £9.99