---
July Summer Sale Now On! Up to 20% off at Revital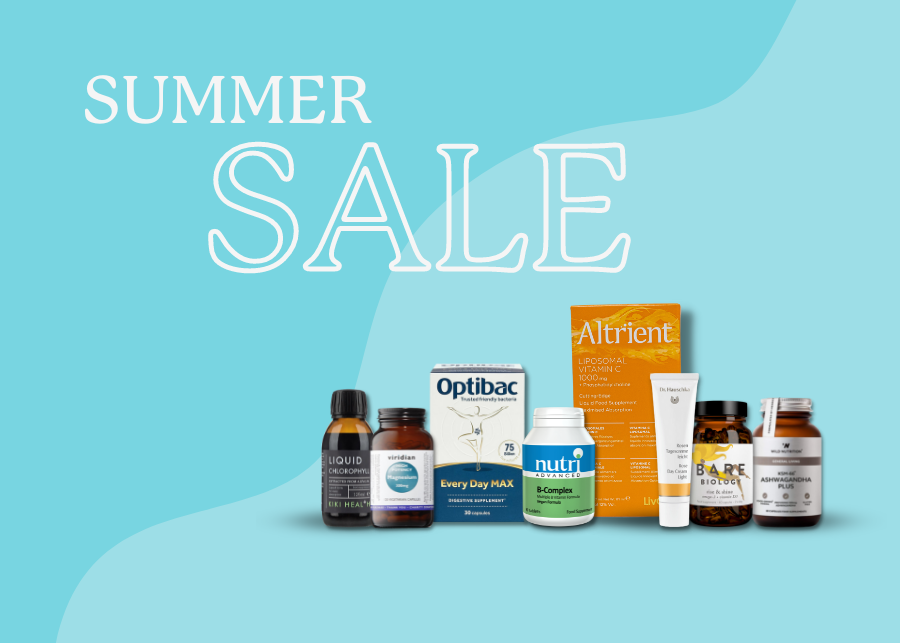 Offers you dont want to miss!
Get up to 20% OFF some of your favourite brands like Viridian, Solgar, Nature's Plus, BioCare & more! Prioritise your health today and make healthy choices for a better you this SUMMER!
Plus, get FREE SHIPPING on orders over £25! 
Check out our top picks below
Most ordinary forms of oral Vitamin C – tablets, capsules, powders, liquids and even the Vitamin C from your diet – are not processed and absorbed efficiently by your body. As a result, much of this Vitamin C is never transferred into your bloodstream and even less of it makes it into your cells where it's needed most.
Was £44.50 Now £35.60
Sea buckthorn berries contain fatty acids of virtually all the important series, omega 3, 6, 7 and 9 and is exceptionally rich in palmitoleic acid (omega 7), rarely found in the plant kingdom. The oil is also rich in natural antioxidants; tocopherois, tocotrienols, carotenoids and plant sterols. The berry of sea buckthorn has for hundreds of years been valued and used as a source of nutrients.
Was £43.95 Now £35.16
D3 Drops with K2 provides 1000iu of vitamin D3, the preferred form of vitamin D, per 3 drops, together with 45µg of vitamin K2.
Was £18.70 Now £14.96
Bio-Kult is a unique multispecies, multistrain probiotic with 14 strains of beneficial bacteria. This means that Bio-Kult can deliver high concentrations of beneficial bacteria to the colonisation sites in the gut and therefore be able to help a more diverse range of digestive disorders.
Was £31.45 Now £25.16
BetterYou™ DLux+ Vitamin D+K2 Oral Spray is an optimum strength spray delivering 3000iu of vitamin D alongside 75μg of vitamin K2 per dose (3 sprays).
Was £9.95 Now £7.96
Made especially for women, this supplement contains two strains of natural bacteria which are found in the intimate flora. OptiBac Probiotics For Women provides at least 2.3 billion live cultures per capsule, proven to survive to reach the vagina alive.
Was £52.99 Now £42.39
Life & Soul Pure Omega-3 capsules are tiny and easy to swallow, but high strength. With four a day you get 860mg EPA and 440mg DHA. One pack of 120 capsules will last one month. The capsules are made only with fish gelatin (no beef or pork) and pure and unadulterated fish oil
Was £28.50 Now £22.80
Just 1 soft gel a day is all you need! Peak EPA is purified and concentrated to provide a Peak dose of EPA in every soft gel. Peak EPA is clinically proven to increase Omega-3 levels in human muscle tissue and red blood cells.
Was £33.99 Now £27.19
Provides 100µg of this important nutrient in the preferred D3 form and at a strength that is increasingly being recommended to correct deficiencies. These easy to swallow capsules are made in the UK to pharmaceutical GMP standards.
Was £11.95 Now £9.56
Vitamin D3 is a fat-soluble vitamin. It is also known as the sunshine vitamin, as the human body can manufacture it when exposed to sunlight. Well known for its role in regulating calcium levels, vitamin D is now attracting attention for its role and benefits to the body. These include the maintenance of normal bones, teeth, muscle function as well as the normal functioning of the body's immune system.
Was £28.25 Now £22.60