JOIN THE EASILY PUBLISHER NETWORK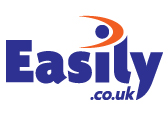 Easily (Merch ID 1499) belongs to a select category of domain name retailers able to offer hundreds of sector-specific domain endings such as .bike, .photography, .fitness, .holiday, .restaurant and .accountants (as well as .com and .co.uk).  These new domain endings allow businesses and end users to acquire the short, memorable, and meaningful web presences that have become crucial to online success.
We are actively recruiting publishers from all business and leisure sectors to promote and sell individual domain names to readers and site visitors.  In exchange, we offer a generous commission structure of up to 20% and the knowledge that you are working with one of the industry's most innovative, collaborative, and fastest-growing retailers, with a track record of superior customer support.  We know you'll be so impressed by our offering and the high availability of fantastic names, you may even be interested in picking up a few for yourself!
If you have any questions or would like to discuss this opportunity further, please contact Ian Patten on 020 7015 1712 or ian.patten@netnames.com.   We are always happy to assist with promotional / informative content or discuss any specific design requirements you may have.
Easily (www.easily.co.uk) is part of the NetNames family, a group of companies offering domain name registration, hosting, and email packages https://ui.awin.com/merchant-profile/1499
Tags: domain name extensions, domain names, Domains, email, email hosting, email hosting packages, incentive, new domain names, new website, offer, top level domains, unique domain names, website, website hosting