Insure Your Mobile From £1.49 A Month With MobIns!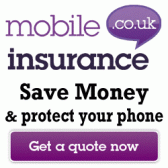 MobileInsurance.co.uk Affiliate Newsletter


Insure Your Mobile From £1.49 A Month With MobIns!

Mobile Phone Insurance – from £1.49 per month or

Buy our annual policy and get 3 months EXTRA cover!

In today's world the mobile phone is so much more than just a tool, and as a result when your handset gets lost, damaged or stolen it can feel like being cut off from the world, but we aim to remove the stress and get you back in touch with those important people as soon as is possible with our comprehensive insurance policies. Given the cost of replacing a damaged phone, insurance is more of an essential than ever before, and no site makes it easier to find the right plan for you and your phone.

You'll be dealing with part of a special insurance provider large enough to provide the security and confidence of dealing with an established name with a track-record of delivering on their commitments, not to mention the resources to give you genuinely first class service at every stage. We'll send you a replacement handset to get back in the loop, and we'll even cover you against unauthorised calls and make sure you're secure anywhere in the world for the ultimate peace of mind. And we'll aim to do all that within just 48 hours of a successful claim.