Incentive offer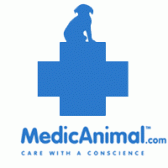 MedicAnimal.com launch on Affiliate Window
Great news! We are delighted to announce the launch of MedicAnimal.com's affiliate program on Affiliate Window.
MedicAnimal.com is the largest e-commerce company in the United Kingdom specialized in veterinary and pet retail. Founded in 2007, MedicAnimal.com aims to offer affordable, high quality pet care direct to consumer, alongside direct access to veterinary advice and expertise. The MedicAnimal.com catalogue of over 11,000 products includes high quality pet diets, supplements, medicines and accessories. All major brands are offered, with an emphasis on premium quality products.
Why join our affiliate programme?
5% commission rate
60 day cookie length
High conversion rate
Automated product feed
Timely commission payments
Dedicated affiliate team
Regular offers and incentives
Average basket value £35
What MedicAnimal.com provides to your clients:
Huge savings on the exact same products that they currently buy from their vet
Free delivery on all products including food
Easy site navigation
Trusted Retailer - All products are UK sourced and all medicines are dispensed by qualified veterinary surgeons
Launch Incentive
As a special competition to coincide with the launch, the top 3 performing affiliates in September will be awarded 7% commission on all sales for the month of October. Top performers are to be judged on overall sales value.
In addition, MedicAnimal.com is offering a 10% store wide discount to help kickstart the launch. The code "AWMEDIC" is valid until midnight on the 10th of September and is exclusively available to Affiliate Window publishers. *Code cannot be used in conjunction with any other voucher code on MedicAnimal.com website.
Join the programme today at https://ui.awin.com/merchant-profile/4464
We look forward to working with you!
Please contact Valentine at valentine.lieutaud@medicanimal.com