Hobbycraft Schools Out Offers plus Free Delivery Over £20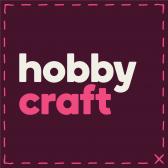 Hey,
We'd like to thank you for joining the program in our first week. It's early days and we are really pleased as sales and are going really well with an impressive AOV of £32.
We are looking forward to working closer with you and as it is the school holidays we have highlighted a few of our boredom busting offers amazing offers (with deep links) for you below. There are some great 3 for 2's and don't forget we are offering Free UK Standard Delivery on Orders Over £20.
If you've got any craft projects going on or if you're a crafty blogger and would like to maybe review a product or two please don't hesitate to get in touch as we'd love to hear from you crafty folk out there 🙂
Don't forget we are paying 10% commission and are giving all publishers that drive traffic to Hobbycraft a chance to win a share of £150
* Please replace !!!id!!! with your own affiliate ID on the deep links
Schools Out Offers

http://www.awin1.com/cread.php?awinmid=5411&awinaffid=!!!id!!!&clickref=&p=http%3A%2F%2Fwww.hobbycraft.co.uk%2Fhome-craft%2Fcraft-storage-and-furniture%3Ffilter%3DInventory~Yes%2FPromoDescription~3%2BFOR%2B2%2F
http://www.awin1.com/cread.php?awinmid=5411&awinaffid=!!!id!!!&clickref=&p=http%3A%2F%2Fwww.hobbycraft.co.uk%2Fkids%2Fkids-painting-and-colouring%2Fcolouring-and-drawing%3Ffilter%3DBrand~Crayola%2F%26resultsPerPage%3D100%3Futm_source%3Demail%26utm_medium%3Demail%26utm_campaign%3D01082013

Kids Aquadoodle 20% off – Online Exclusive
http://www.awin1.com/cread.php?awinmid=5411&awinaffid=!!!id!!!&clickref=&p=http%3A%2F%2Fwww.hobbycraft.co.uk%2Fadvancedsearchresults.aspx%3Fquery%3Daquadoodle
Kids Paint by numbers and scraper foils half price
http://www.awin1.com/cread.php?awinmid=5411&awinaffid=!!!id!!!&clickref=&p=http%3A%2F%2Fwww.hobbycraft.co.uk%2Fkids%2Fkids-kits%2Fpainting-and-colouring-kits%3Ffilter%3DBrand~Reeves%2F%3Futm_source%3Demail%26utm_medium%3Demail%26utm_campaign%3D01082013
All Christmas papercraft 3 for 2
http://www.awin1.com/cread.php?awinmid=5411&awinaffid=!!!id!!!&clickref=&p=http%3A%2F%2Fwww.hobbycraft.co.uk%2Fkids%2Fkids-kits%2Fpainting-and-colouring-kits%3Ffilter%3DBrand~Reeves%2F%3Futm_source%3Demail%26utm_medium%3Demail%26utm_campaign%3D01082013

Grand Spellbinder Die Cutting machine was £110 now £79.99

http://www.awin1.com/cread.php?awinmid=5411&awinaffid=!!!id!!!&clickref=&p=http%3A%2F%2Fwww.hobbycraft.co.uk%2Fspellbinders-grand-calibur%2F572644-1000%3Futm_source%3Demail%26utm_medium%3Demail%26utm_campaign%3D05082013
Boredom Busitng 2 for £15 Offers
Thanks
Chris & The Hobbycraft Team
chris@clearnewmedia.com
Tags: back to school, craft, offers, school holidays, schools