Hobbycraft now paying 50p per Assist in April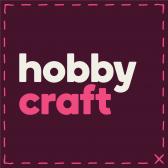 Hi,
At Hobbycraft we appreciate the work our affiliates do in helping drive customers and sales to our site and we appreciate that sometimes you might not get the commission for that help, especially you bloggers and content sites.
So to help reward everyone for their hard work and promotion we are pleased to announce we will offer you 50p per assist during April. To get this set up on your account please contact myself and Sumeera at Affiliate Window and we can set this up for you.
Starting April 1st and running until April 30th if Hobbycraft will pay you 50p for every sale you assist in Affiliate Window.
An assist is recorded and tracked by Affiliate Window each time someone who visited your site has clicked on a Hobbycraft link but then also clicked on another publisher link, giving them the commission. Now that publisher will still get the commission but YOU will get 50p for each sale you assist in this process.
This is great news for you meaning you can promote Hobbycraft safe in the knowledge you will get rewarded for every contribution you make to a sale.
To have this set up please contact myself at chris@clearnewmedia.com and Sumeera at sumeera.doonga@affiliatewindow.com
Thanks and we look forward to hearing from you
Chris & The Hobbycraft Team
chris@clearnewmedia.com
Tags: affiliate assists, assist commission, craft, Hobbycraft