Hobbycraft Launches with 10% Commission and £150 Affiliate Giveaway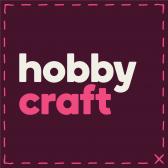 Hi
We are extremely pleased and excited to let you know that the Hobbycraft affiliate program is now live! We are really looking forward to growing our program with the help of the affiliates. The team of myself, Chris Brown, and Michelle Barros at Awin will be on hand to assist you with anything you need and keep you up to date with everything that is going on at Hobbycraft.
If you are not familiar with Hobbycraft, prepare to be amazed! We are the leading retailer for all things craft. With more than 35,000 arts & crafts products for 250 inspirational activities, you'll discover everything you need to get crafty. Including :
Art materials
Kids crafts
Homecrafts
Baking
Paper crafts
Knit and stitch
Jewellery making
... And so much more!
What do we have for you;
Introductory commission rate of 10% until October 31st
Affiliate Incentive to win £150 worth of Hobbycraft vouchers
Full detailed product feed
Great range and selection of creative
Hobbycraft branded Awin Widgets coming soon
Thousands of amazing products for you to promote across an array of crafts
We are always running great customer offers and we will be adding a post on the Hub to keep you up to date with all our offers
Current customer offers
Free Delivery on all orders over £20
Hobbycraft Clearance Sale
Online exclusive promotions
3 for 2 on all Wool and Yarn
Buy 1 get 1 free on all art canvas
2 for £15 Kids kits
Hundred's of 3 for 2 offers online
Launch Incentive - £150 Affiliate Giveaway 
1x£50 and 5X£20 hobbycraft vouchers to give away.
£50 voucher to the top performing affiliate from launch to August 31st
£20 vouchers to 2nd and £20 to 3rd
2x£20 vouchers drawn at random as a prize draw. To qualify just need to get Hobbycraft active and send through more than 2 clicks
As it is wedding season at Hobbycraft we currently have a big focus on our great range of wedding products that will really help make any wedding unique and add that personal touch.
Check out our great wedding range here and please get in touch if you have any questions, queries or promotion opportunities.
Thanks
Chris & The Hobbycraft Team
chris@clearnewmedia.com
Tags: affiliate incenitve, arts, commisison increase, crafts, Hobbycraft, new program