Hobbycraft Last Delivery Date and Increased Commission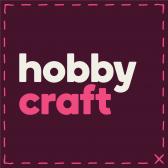 Hi,
Yes it's that time again now where it is last standard guaranteed delivery dates before Christmas. Customers need to order before 3pm today so get this message pushed out along with some of the great sale and offers we have running see this link on the Hub for full details. Don't forget to enter our festive affiliate incentive for your chance to win a share of £500 worth of Hobbycraft vouchers plus earn 12% commission for the rest of December just be entering. Find the full details here.
Free Standard UK Delivery on orders over £30
Last guaranteed delivery date 3pm Tuesday 17th December
Delivery Dates
·         Standard UK Delivery : Order by 3pm on Tuesday 17 December.
·         Click and Collect : Order by 3pm on Sunday 22 December.
·         Next Day Delivery : Order by 3pm on Monday 23 December.
Offers
3 for 2 on Jigsaw Puzzles
http://www.hobbycraft.co.uk/hobbies/jigsaws/jigsaw-puzzles
Huge sale on all 3 for 2 Christmas products when they are gone, they are gone!
http://www.hobbycraft.co.uk/christmas
Amazing deals on Kids crafts and presents ideal to keep the little ones busy
http://www.hobbycraft.co.uk/kids-craft
We are aware of a slight feed issue right now which is being looked at so apologies for that but if you have any questions or promotion opportunities get in touch.
Thanks
Chris & The Hobbycraft Team
chris@clearnewmedia.com
Tags: affiliate incenitve, christmas delivery dates, craft, free delivery, increased commission, kids craft, last order dates, toys