Hobbycraft Half Price Sale plus Free Delivery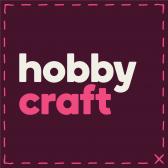 Hi,
As we move into the New Year people find it's a great time to start a new craft or pick up a craft they'd stopped. To help people find the love of crafting the Hobbycraft Half Price Sale is now on. The sale is across all craft ranges from kitchen to paper craft.
Up to Half Price Sale
Hurry While Stocks Last
Plus Free Delivery when you spend £30 or more
With a huge range of crafts and ideas on their blog Hobbycraft really is the one stop shop for all things craft related. With 10% commission for new customers and 5% for existing it is also one of the top paying retail programs. So if you're not pushing Hobbycraft lets make 2016 the year to get crafty and get in touch with myself or Rob@clearnewmedia.com and lets discuss creative ways to promote Hobbycraft in 2016.
Thanks and Happy New Year
Chris & The Hobbycraft Team
Tags: art sale, arts, crafts, half price sale, paper craft, sewing