Hobbycraft Christmas Craft Blogger Competition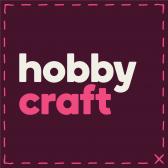 Hello,
Hobbycraft are running a Christmas Craft Blogger Competition where you will have the chance to win a share of £200 in Hobbycraft vouchers. 
Simply send us a link to a blog post or piece about Hobbycraft and you'll be entered into the draw. This can be crafty things you've made with Hobbycraft products or just a piece about all the cool crafts you can get at Hobbycraft.
Please be sure to send us your link by Thursday December 1st to qualify. Winners will be drawn at random from entries and it's only open to bloggers like yourself.
 
Prize details
1st prize - £100 Hobbycraft Voucher
2nd Prize - £50 Hobbycraft Voucher
3rd Prize - £50 Hobbycraft Voucher
 
Just a reminder of some of the fantastic deals running at the moment, please see below:
Best of luck!
Chris & The hobbycraft Team
chris@clockworkaffiliates.com / matthew@clockworkaffiliates.com
Tags: blogger competition, bloggers, Christmas, competition