---
Help Your Employees Stay Active With Cycle Racks Available At ESE Direct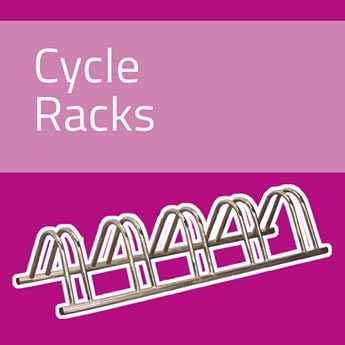 Encourage your employees to stay active with one of these cycle racks available at ESE Direct.
Click here to find out more. 
These racks are designed for medium duty use.
Suitable for all types of bicycles (including mountain bikes with a maximum tyre width of 50mm).
Supplied as a fully assembled galvanised steel unit ready for immediate bike storage use on the floor or wall.
Floor / Wall fixing standard screws and plugs are included for concrete but these may not be suitable for all wall / floor types.
Choice of rack for 3 bikes, 4 bikes or rack for 5 bikes.
From £37.05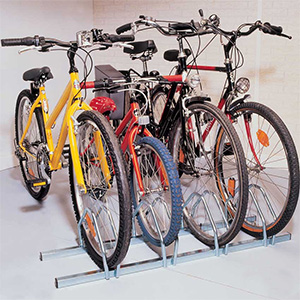 Galvanised steel construction makes this bike rack ideal for outdoor bike storage.
The single 1 bike holder is usually used on the wall, but can also be fixed to the floor if you wish.
The multi 5 bike rack is usually fixed to concrete floor (although can be freestanding if security is not an issue), but can also be fixed to brick walls if you have a requirement for multiple bike holders at your premises.
Each rack is 260mm deep.
Suitable for wall or floor mounting.
Suitable for use with tyres up to 55mm.
From £16.10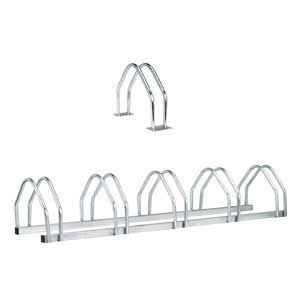 2 to 6 bike single sided racks.
Racks can be joined together for creating larger capacity bike racks.
Each cycle rack is 550mm deep x 415mm high.
Strong steel construction with 19mm diameter tube wheel supports.
Hot Dip Galvanised steel construction for long life.
Accepts tyre widths up to 50mm.
Accessible from one side only.
Easy self assembly.
From £58.61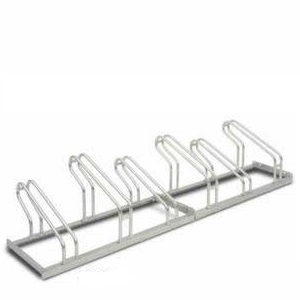 Surface mounted Sheffield toast rack is ideal for use inside a bicycle shelter.
Capable of holding up to 8 bikes.
UK made Sheffield hoop toast racks available with 2, 3 or 4 hoops
750mm high with 850mm hoop centres.
Choice of galvanised, galvanised powder coated black or stainless steel finish.
From £110.07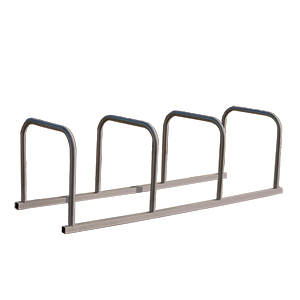 Galvanised steel for long term external use.
Holds 5 cycles at staggered heights.
For city and mountain type bikes with tyres from 35mm to 55mm.
Self supporting, modern and attractive design.
Robust 16mm diameter support bars.
Rust proof zinc plated bars.
From £75.05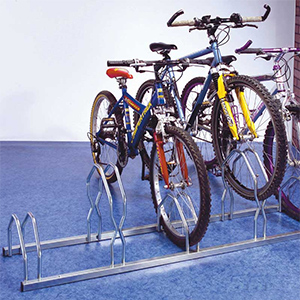 6 bike or 8 bike capacity.
Use freestanding, or fit into our Traditional Cycle Shelters.
Bikes held upright by slots / hoops that grip wheels.
Mounts by bolting into concrete.
All metal parts powder coated in an attractive dark grey RAL7024 for weather resistance.
Dimensions: 935mm high & 600mm deep.
All welded steel construction - delivered ready to use.
From £212.13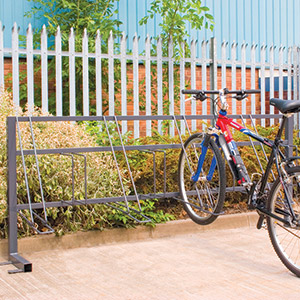 Semi Vertical Bike Rack capable of storing up to 10 bikes.
Ideal for use where space is at a premium.
Bikes are stored at 450mm centres with alternating high / low positions (other centres are available but it is not recommended to have the bikes stored much closer together as it makes them harder to get in and out of the semi vertical rack spaces).
Overall dimensions are 1114mm deep (plus rear bike wheel overhang which depends on size of cycle wheel) x 1463mm high (approx 1850mm high with bikes in place).
From £322.78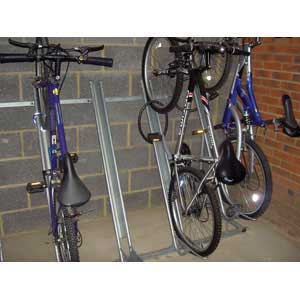 Bikes stored at twin levels with wheel ramps to upper level.
Single sided rack ideal for parking bikes against a wall.
Twin level storage provides easy access to locks and chains.
'V' shaped parking centre to chain and secure each bike.
Framework and all metal parts are powder coated dark grey as standard.
All metal parts powder coated for weather resistance.
All racks are surface mounted.
Mounted by bolting into concrete.
From £199.64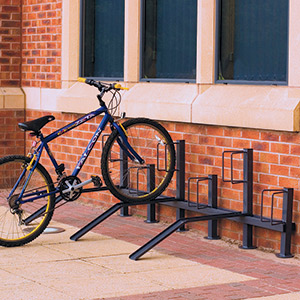 Vertical bicycle storage racks for 4 or 6 bikes.
Steel angle iron construction with 10mm steel wire.
Galvanised finish provides additional protection against the elements and corrosion.
Front tyre fits between steel wire tubes to hold the bike in place
Suitable for mountain bike tyres.
Both units are 1200mm high and 1070mm deep with 300mm centres.
Suitable for bolting down onto tarmac or concrete.
Supplied with 4 pre-drilled floor fixing holes.
Multiple racks can be joined together to create longer runs.
Supplied flat packed for easy onsite assembly.
From £281.67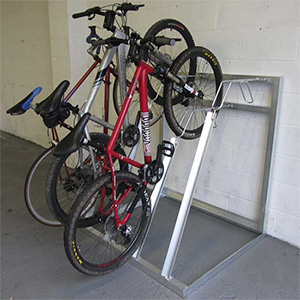 Store between 4 and 12 bicycles.
Dimensions: 670mm high x 1445mm wide x 790mm deep
Surface mounted.
Made from stylish curves of tubular steel, dark grey powder coated for weather protection.
Simple mounting by bolting into concrete.
Single sided racks for sitting against walls.
Double sided racks for access from both directions.
Robust, fully welded steel construction - no assembly required.
From £291.70