Hay Fever & Allergy Relief Treatment Available at Great Value
---
Hay Fever & Allergy Relief Treatment Available at Great Value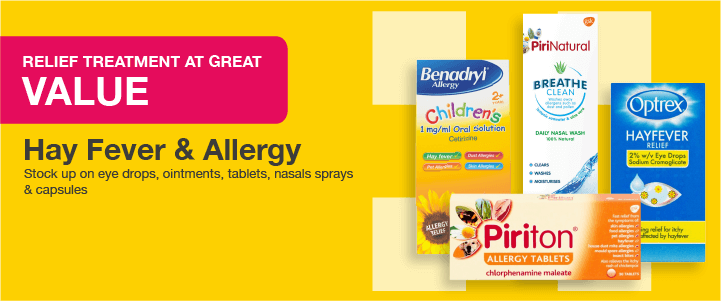 Hay Fever & Allergy Relief Treatment available at Chemist Direct.
Stock up on eye drops, ointments, tablets, nasal sprays and capsules.
These items offer quick and lasting relief from symptoms such as runny nose, sneezing and itchy eyes. There's a wide variety of allergy tablets and capsules available, by trusted hay fever brands and manufacturers.
Click here to find out more.
Phenergan 25mg tablets are indicated for the relief of allergic conditions. Phenergan can also be used to ease motion sickness, helping to prevent nausea so you can enjoy your trip without feeling sick and uncomfortable.
Our Price £7.79

These tablets contain Cetirizine Hydrochloride/ Cetirizine Dihydrochloride as an active ingredient which can protect your body from allergy symptoms caused by hay fever, skin allergies, dust/mould allergies, or pet allergies.
Our Price £6.99

Benadryl Allergy Relief Capsules are fast acting allergy relief, getting to work in just 15 minutes. They can be used to relieve your year round allergies including hay fever, dust mite allergies, pet allergies and skin irritations.
Was £8.79 Now £5.63

Piriton Allergy Tablets are antihistamine tablets that can be used to treat the symptoms of hay fever and other allergies. Piriton Allergy Tablets also relieve the itchy skin rash of chickenpox. They are suitable for adults and children aged 6 years and over.
Our Price £3.59

Hayfever Relief Nasal Spray [Beclomethasone Nasal] is used in the prevention and treatment of common symptoms of allergic rhinitis, including hayfever and other airborne allergies, such as sneezing, blocked nose, and runny or itchy nose, and irritated eyes.
Our Price £4.29

Don't let hay fever stop you getting outdoors. This nasal spray fights the symptom of hay fever and allergies.
Was £8.59 Now £6.44

Otrivine Adult Metered Dose Nasal Spray delivers an exact dose of medicated spray inside the nose to help relieve nasal congestion associated with sinusitis.
Our Price £3.69

Optrex Hay Fever Relief Drops 10ml – Soothing relief for sore, itchy eyes affected by Hayfever
Was £5.99 Now £4.99

Optrex Itchy Eye Drops, which contain natural plant extracts, help relieve irritation caused by pollen.
Was £4.99 Now £4.49

Optrex Allergy Eyes Eye Drops are specially formulated to prevent, treat, and soothe itchy, irritated eyes caused from hay fever or any other allergy.
Our Price £6.39