Handmade Valentines crafts at Hobbycraft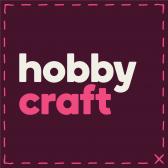 Hello Affiliates,
Find your own unique and heartfelt way to say 'I love you', with a handmade card or homemade gift for Valentine's Day. Find everything you need to make Valentine's Day special this year at Hobbycraft and create something personal you know they'll love.
Valentines at Hobbycraft, from card making, baking, gifts & pyrography!
-
Display your treasured memories with a box frame. Our range of square deep display frames are ideal for showcasing photographs, papercraft and keepsakes, from wedding photos to cross stitch, collages, scrapbook pages and more. Find the perfect picture frame from our selection of memory box frames.
-
If you have any questions, queries or if you are interested in discussing any promotion opportunities, please don't hesitate to contact either Chris or Matthew!
Happy Promoting,
Matthew & The Hobbycraft Team
matthew@clockworkaffiliates.com / chris@clockworkaffiliates.com
Tags: Arts and Crafts, crafty gifts, half price sale, Valentines Cards, valentines day, valentines gifts