---
Grit Bins From £18.05 At ESE Direct
Our grit bins and salt bins are ideal for use in many outdoor public places such as parks, road sides and equally for private use on business premises. Many of our grit bins are lockable and depending on the type of bin you choose the lock comes fitted or the bin is supplied with a clasp mechanism for attaching a padlock where required. Our plastic grit and rock salt bins are much more attractive than traditional salt bunkers and are available in a variety of sizes and colours including red, yellow, green, black and blue.
Designed to be compact and yet still hold up to 50kg of salt, this bin features a wide mouth which allows for easy access.
Our Price From £40.00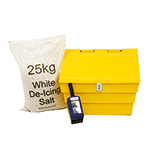 Grit and go this winter with our complete winter maintenance kit, which is ideal for small and medium sized businesses.
Our price £299.00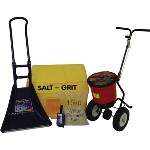 Heavy duty wheels and ergonomically designed handle ensures that this grit bin can be manoeuvred easily, which is ideal for making larger areas safer more quickly.
Our price £103.55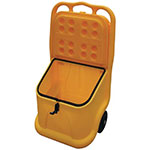 Our grit bins lids are designed to divert water away from the top, and handily includes a scoop holder on the inside.
Our price £18.05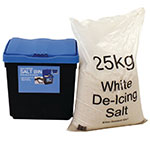 This is a very cost effective grit bin with a generous 200 litre capacity.
Our price £80.24
The mini grit bin with 25kg salt and scoop is ideal for ensuring smaller areas are kept free from potentially dangerous patches of ice, whether they are on a road or pathway.
Our price £56.66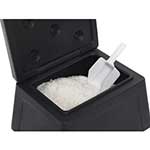 Quality grit bins, ideal for roadside storage, car parks and company premises, available in two sizes, they both come with an appropriate amount of rack salt to ensure you are prepared for winter weather.
Our price £179.95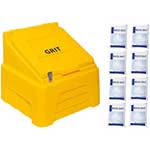 A Cost effective grit bin with 60 litre capacity Complete with free 25Kg bag of de-icing salt and scoop, this is the perfect winter starter kit for any small business of home.
Our price £67.05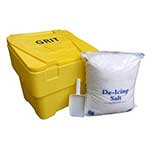 These polyethylene manufactured grit bins wear very well and are known to resist even the worst weather conditions.
Our price £130.58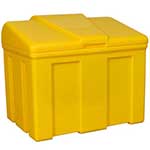 Bring a touch of class to your premises this winter with our black and gold Victoriana grit bins. These products have also been manufactured with practicality in mind, featuring an inbuilt hopper feed in the base.
Our price £141.55