Great Savings on Safety & Security Products at ESE Direct
---
Great Savings on Safety & Security Products at ESE Direct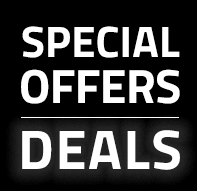 Great savings on Safety & Security Products available at ESE Direct.
Offers expire - Midnight 31.08.19.
Click here to find out more.
A multi-purpose Armorgard cutting unit, with a secure cabinet beneath the workbench area. 110v power supply with 2 internal sockets, including light. Extending support arms with four configurations. Heavy duty swivel wheels for easy moving. Sounding deadening, fire rated foam minimises noise pollution. Rubber mat to reduce hand-arm vibration. PVC curtains to contain sparks. Internal swarf collector with dust extractor connection point. Highly secure fitted with 5-lever deadlock.
Was From £2,404.20 Now From £2,163.78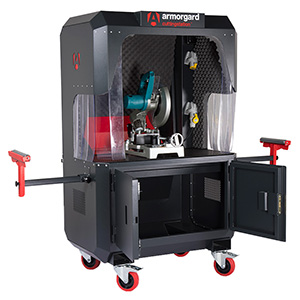 Maximum protection thanks to robust construction by Armorgard. Both the lower and the upper compartments have 2x full width shelves. Pockets on doors for smaller components. Keyed-alike 2 point tamper-proof locking system. Serial numbered should replacement keys be needed. Slanted, folding work surface with lockable concealed storage area. Robust fork-lift skids with pre-drilled holes for castors. Both sides of top compartment have gas struts.
Was From £2,036.42 Now From £1,832.78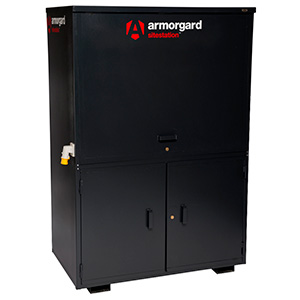 COSHH compliant oil drum storage unit. Built by Armorgard with 290L fully welded sump. The shelf has a 120kg working load capacity. Shelf can be removed completely. Fully transportable when the cage is empty with forklift pockets. Nut and bolt construction means you can deconstruct the unit if required. Steel mesh is galvanised for durability. The door is fitted with a hasp and staple catch to allow the unit to be secured with a padlock (not included). Easy access for all types of drums.
Was From £1,851.69 Now From £1,666.53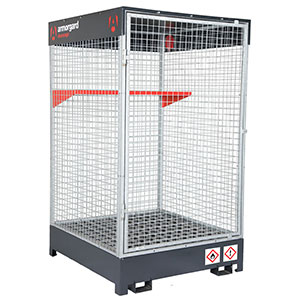 Ideal for use with 205 litre drums. Both drum banks have a 250 litre sump capacity. Strong gas struts fitted as standard which conform to industry standards. Suitable for chemicals and flammables. Very robust build quality, made by Armorgard. Heavy duty door fitted with two 5 lever deadlocks. Raised and removable open floor. Fork skids with fixing slots. Built to ½ hour fire rating specification. View our range of drum trucks and dollies.
Was From £1,505.51 Now From £1,354.97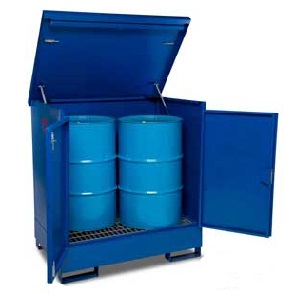 3m or 6m lengths. Constructed by Armorgard from from heavy duty steel. Fitted with swivel castors. Space saving - can be easily stacked or dismantled when not in use. Inside divided into 4 separate compartments for organised storage. Forklift skids for easy transportation. Powder coated charcoal grey finish. 5 lever deadlock for secure storage. Serial numbered for replacement keys. Additional sections can be added to take longer lengths. Commonly known as a 'copper coffin'.
Was From £851.72 Now From £766.55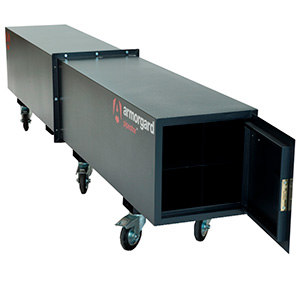 Ideal as a gas cylinder storage cage or for temporary on-site storage. Only 180mm high when flat-packed. Fully stackable & forkliftable when closed or folded. Made by Armorgard from heavy-duty galvanised steel. Folds down to 180mm high when not in use & easily unfolds for use. Solid sheet base included as standard. Welded hinges - no detachable parts, ensuring security is not comprimised by hinges being unscrewed. Stores up to 9 x 47kg gas bottles. Safety signage as standard.
Was From £829.06 Now From £746.16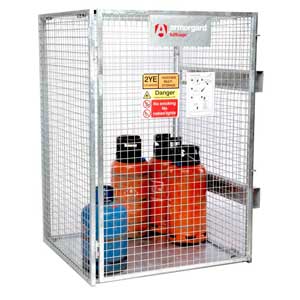 Constructed from robust steel with a charcoal grey finish. Heavy duty industrial castors fitted as standard. Supplied with 2 (FC2) or 3 (FC3) reinforced, adjustable shelves. Supplied with tough lift-out plastic fittings bins. 2x 5 lever keyed alike deadlocks. Supplied with 3 keys. Serial numbered. Armorgard FittingStor cabinet designed to safely secure all M&E components. Space for storage of other general equipment and tools.
Was From £686.52 Now From £617.87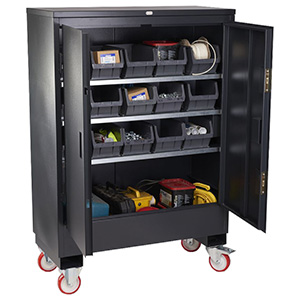 Recycled textiles, laundered and converted into rags. Pallet quantity: 45 x 10kg bags. Cuts down on landfill, reducing your environmental impact. Maximum value and economy. Highly absorbent. Ideal for industrial wiping, cleaning, dealing with excess liquid, and polishing.
Now From £271.35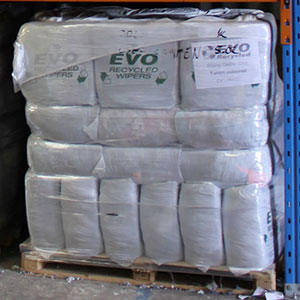 Keyed alike 5-lever deadlocks both sides with heavy duty brass keys and welded security ID numbers. Robustly constructed by Armorgard from heavy duty 2mm & 3mm steel plate. Strong gas struts both sides of lid that conform to industry standards. Unique Wheel Winder activation system converts the BarroBox from static to mobile in seconds. Will fit through a standard doorway. Supplied with 3 keys.
Was From £558.88 Now From £503.00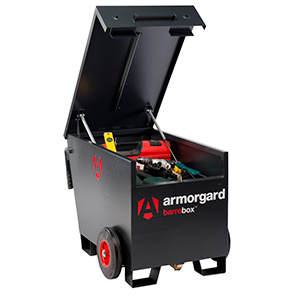 Designed by Armorgard for the safe storage of gas bottles. Constructed using 25mm box section and 3mm wire mesh maximising the strength and life of the product. Galvanised finish suitable for all weather conditions. Robust, bolt-together gas cage. Modular design allows for future customisation or expansion if required. Comes with a hinged door and padlock facility to secure the unit. Quick and easy to erect and the cages can be dismantled and stored away when not needed.
Was From £372.87 Now From £335.59