Great Offers, New Ideas and Crafts at Hobbycraft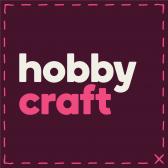 Hi,
At Hobbycraft we have a whole range of online offers to push out at the moment, starting with the Fiskars Fuse Creativity System, which you can save a whopping £70 on!
http://www.awin1.com/cread.php?awinmid=5411&awinaffid=!!!id!!!&clickref=&p=http%3A%2F%2Fwww.hobbycraft.co.uk%2Ffiskars-fuse-creativity-system-starter-set%2F585877-1000%3F
In addition to this, we have some fantastic 3 for 2s on Knitting Wool & Yarn, Papier Mache Animals and Face Painting Kits, as well Half Price Kids Knit & Stitch Kits and Hobbycraft Special Scrapbooks.
Looking for a bargain? Then head to the Hobbycraft Summer Clearance, where you can get hundreds of great items at a minimal price, and if you're not already up on the new craze of Loom Bands then where have you been!? Quickly get involved!
Also, for those in need of something to keep the kids entertained for a couple of hours, check our Kids Crafts Ideas on the Hobbycraft blog for inspiration.
Finally, a quick reminder of the upcoming commission change, due August 4th, where commission for existing customers will be changing to 5%, for more info please take a look at this post.
If you have any questions or promotional opportunities then please get in touch!
Thanks,
Chris & The Hobbycraft Team
chris@clearnewmedia.com
Tags: 3 for 2's, commission change, crafts, free delivery, Half price, half price crafts, Kids Crafts, loom bands, Wedding Crafts